Ralph briefly had a look at
The Polyveldts
prior to their gig at The West Derby Festival back in August. Just after that they released their first EP.
The Polyveldts
are,
Tom Barnes - Rhythm Guitar and Vocal,

Dan Cummings - Bass,

David Deegan - Rhythm Guitar and Vocals,

Jacob Naylor - Drums and

James Unsworth - Lead Guitar and Vocals

and play an almost Sixties stylee, psychadelic guitar based brand of music. Have a listen to some of their earlier releases like 'Stone Rosie' or 'Shoot Me Down' on the 'Waiting For George' and you'll see what I mean.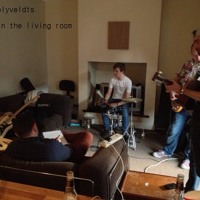 The second EP from the guys just out is a stripped back acoustic 6 track called 'Life In The Living Room' and it's just that! Recorded in the living room with a mic, a guitar and voices. It's an honest, gritty piece of work showing once again their strong song writing abilities.
They were scheduled to record in the studio, but due to timings and lack of communication, that didn't happen. So they "turned a frown upside down, went home, cracked open a few beers and recorded a live EP in the living room, using one laptop, a mic and Joe Hyam" and this is the result...
It's time they were reaching a wider audience with their solid, honest, guitar based psychedelic rock sounds.....proper tunes!
With that in mind they're playing a gig at
The Shipping Forecast
Liverpool on 30th March 2013 and they're going to be featuring a couple of new tracks in their set.
Keep your ears open for the punchy, guitar driven 'Oh Yeah' and you'll swear you're witnessing the rebirth of The Yardbirds.