Nominate
Fruitbatwalton
for a
social media award
in the Shorty Awards
5.4.13
It's official.....
HMV's future as a high street retailer has been salvaged in a £50m deal that secures 2,500 jobs on Britain's beleaguered high streets.
Hilco, a restructuring firm, confirmed on Friday morning that it had struck an agreement with Deloitte, the administrator to HMV, to rescue the retailer.
All nine of the Fopp-branded shops are included in the transaction.
While that represents little more than half of HMV's UK stores that were open before it called in administrators in January, it represents a more optimistic outcome for the chain than many analysts had predicted.
5.4.13
Hilco, the specialist restructuring firm, is poised to sign a binding agreement to secure HMV's future following weeks of speculation that the chain and its historic logo could disappear from high streets. The deal, which could be announced as early as this morning, will involve HMV emerging from administration, backed by a new company incorporated in the UK.
Hilco will acquire roughly 130 HMV-branded stores, and all nine of the outlets which operate under the cut-price music brand Fopp.
People close to the talks said an agreement was likely to be struck later although it could yet be delayed. Hilco has been the frontrunner to become the new owner of HMV since soon after Deloitte was appointed as administrator at the end of January. Initially brought in to manage the retailer's business alongside Deloitte, the restructuring firm acquired HMV's debts just days later.
The chain is expected to be run by a combination of incumbent HMV and newly-appointed Hilco executives. Major music companies and film studios, anxious to retain a major distribution channel on Britain's high streets, are understood to have agreed to new supply terms with HMV and have given their blessing to the deal. HMV's landlords, confronted with the prospect of scores more vacant shops, are also understood to be supportive.
24.3.13
HMV Glasgow Fort has just joined Twitter...give them a follow on this link.....
@hmvfortofficial
So made the #twitter for @hmv @glasgowfort now to get #followers
— HMVGlasgowfort (@hmvfortoffical) March 23, 2013
23.3.13
Happy news for some HMV stores over this weekend as Stockport announce they're one of the lucky stores being kept open!
We are NOT closing! New releases in for Monday, loads of great easter offers (some starting today). So much to look forward to now!
— hmv Stockport (@hmvStockport) March 23, 2013
22.3.13
Sad tweet from HMV Boston as they close their doors for the last time.....
The doors have closed for the last time, thank you for everybody's support , good luck to all our colleagues for the future, thanks again.
— HMV Boston CLOSED (@HMVBoston) March 21, 2013
21.3.13
@hmvstockport fingers crossed. Seen nothing come through from any meetings tho.
— Hmv East Kilbride (@hmvEKofficial) March 21, 2013
@paulfopphead cheers, looking hopeful for the 25 stores that don't have a closing date. Will hopefully be official soon!
— hmv Stockport (@hmvStockport) March 21, 2013
15.3.13
One HMV customers special treat for the staff of HMV Blackburn who are being forced to close this weekend.....
@fruitbatwalton Baking cakes for the brilliant staff at HMV Blackburn. They close on Sunday. #SadDay @savehmvbburn twitter.com/lancswitch3/st…
— cheyenne roscoe (@lancswitch3) March 15, 2013
15.3.13
Word on the street is that supermarket group Asda is eyeing up a possible bid for failed music chain HMV as the first wave of stores prepare to shut down. HMV collapsed into administration in January with more than 1,500 staff losing their jobs and a further 1,500 in the balance.
It is understood Asda has held talks with administrators from Deloitte about saving the brand rather than just converting the sites into convenience stores like Morrisons, which snapped up six sites to turn into its M local stores.
As more than 100 HMV stores across the country are set for closure in the next few weeks, with administrators keen to find a solution before the end of the month when the next rent payment is due.
Asda has little presence in the convenience store market, which is dominated by Tesco and Sainsbury's. However, it may be looking at any potential offer as an opportunity to expand. HMV, which has debts of £170m, suffered poor Christmas sales following years of decline.
11.3.13
This is going to be out last tweet!!! We are closing down the twitter acc, just want to say a big last thanks to you our loyal customers!
— HMV Silverlink (@HMVSilverlink) March 11, 2013
10.3.13
A sign of the times for HMV in Blackburn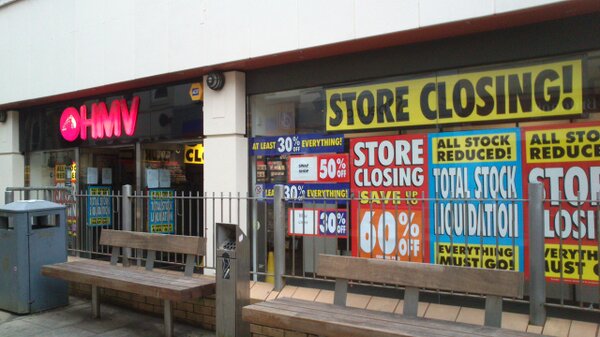 9.3.13
A sad Tweet from HMV Stockport.....
Last tweet from me. Can't really be arsed anymore stating how crap it is to be closing. 8 years of fun ends in a few weeks! Could be worse
— Closing hmvStockport (@hmvStockport) March 8, 2013
28.2.13
It looks like HMV in the UK are not alone.....
Deloitte has announced the sale of HMV's stores within Hong Kong and Singapore, along with additional brand rights in further Asian countries.
The administrator confirmed the buy-out by AID Partners Capital Limited, which took on HMV's six stores located in Hong Kong, and two Singapore branches.
AID Partners has also taken on additional HMV brand rights in China, Macau and Taiwan as the firm looks to grow the brand within Asian markets.
Rob Harding, joint administrator for Deloitte, said: "We are delighted to have completed the sale of HMV's Asian business and wish AID Partners and the HMV Asia team every success for the future in developing this iconic brand further."
27.2.13
This just in on Twitter from HMV Blackburn and concern for their future?
Ok guys still not sure what is going on at the moment but bit sad today we have been told to get rid of neary all... fb.me/2tNK25eG1
— Save HMV Blackburn (@savehmvbburn) February 27, 2013
27.2.13
News out today as Morrisons step in and buy six HMV stores, however don't expect to be able to buy any music as they're being converted to convenience stores as part of their drive to expand the Morrisons M local branches.
They've already bought over 49 former Blockbuster stores and seven Jessops shops in the last two months.
25.2.13
Also just in from Twitter is this sad Tweet from HMV Silverburn.....
As of 9pm tonight hmv silverburn is no more. Thank you to all staff that worked very hard to keep the shop going.
— HMV Silverburn (@HMVSilverburn) February 25, 2013
25.2.13
Just in from Twitter...a card handed in to the staff of HMV Doncaster by a grateful customer.....
A Thank You card from one of our customers. Even though we're not closing, her words mean the world. Check it out :) twitter.com/HMVDoncaster/s…
— HMV Doncaster (@HMVDoncaster) February 25, 2013
25.2.13
An interactive picture of HMV stores on Twitter...
23.2.13
All the HMV stores that are closing would have got their 'Closing Down Graphics' two days ago so it doesn't get much sadder than this Tweet just in from HMV Grimsby.....
So much colour in this closing down sale #sadtimes twitter.com/HMVgrimsby/sta…
— HMV grimsby (@HMVgrimsby) February 23, 2013
22.2.13
Hot off Ralph's Twitter timeline from HMV Buchanan Street, Glasgow in response to an
article in The Sun by radio presenter Jim Gellatly
.....
The original Tweet...
Hopefully not all over yet RT"@jimgellatly: Jim Gellatly: HMV crisis is death knell for ALL music shops fb.me/2CwrivlSl"
— hmv Buchanan St (@hmvbuchanan) February 22, 2013
Jim's reply...
@hmvbuchanan Indeed. Bit of a dramatic headline. My fingers are crossed for you all. Online isn't the same. x
— Jim Gellatly (@JimGellatly) February 22, 2013
Ralph's thoughts...
I'm with HMV Buchanan Street on this one...however as
Jim Gellatly
rightly points out in his reply The Sun does like to over-egg their headlines and he makes a good point in
The Sun article
that HMV lost the plot a bit focusing all their energies on DVD and game sales and music became the poor relation. Hopefully HMV will redress the imbalance by re-thinking their strategy, as there is still a need on the High Street for proper 'record shops'.
However, unlike Jim, I've never been of the opinion that the 'Indie' record shops were intimidating, quite the opposite as they tend to be friendly, welcoming places where they build up a relationship with their customers (which happens to an extent in HMV but will never happen in the supermarkets). You need only look at the likes of
VoxBox
in Edinburgh who only opened up in mid 2011 and who started out buying and selling pre-owned records but are now branching out into selling new vinyl releases too.
Furthermore there's a renewed interest among 'Indie' bands and their followers for physical copies, whether it be CD's or Vinyl and the art of the record cover is very much still to the fore.
Jim finished has interview with a quote that is definitely true though... "I guarantee you will always remember the first record or CD you bought, but you'll never remember the first song you downloaded."
For my part, I've never used iTunes or Amazon or any other downloadable format to buy music. Where possible I shop 'Indie' or HMV for my music in hard-copy and avoid the supermarkets like the plague (unless I want to eat horse meat of course) and I hope more people will do the same.
21.2.13
This just in from HMV East Kilbride.....
I wonder what this is?Oh wait, it's our "closing down" graphics. #NoHangingAbout #NippersBedsNotEvenColdYet #SadTimes twitter.com/hmvEKofficial/…
— Hmv East Kilbride (@hmvEKofficial) February 21, 2013
20.2.13
If you're in Stockport go in to HMV and give them some love...and alcohol...
Not long left here... We will happily accept any messages of support, sweets (not popcorn though) and especially alcohol, thanks!
— hmv Stockport (@hmvStockport) February 20, 2013
20.2.13
This from Ralph's Facebook page posted by an Indie clothing business in Glasgow.....
20.2.13
Just in From HMV Grimsby.....with 4-6 weeks to closing.....
Thank you everyone for your tweets! Unfortunately we are closing! Sad times but HMV will go on elsewhere! Pop in for a last bargain tho:)
— HMV grimsby (@HMVgrimsby) February 20, 2013
20.2.13
This Tweet just in from HMV High Wycombe who are keeping their collectiver chins up.....
We are yet to receive a closing date so until then its business as usual, please excuse us if you hear some good ol' metal over the PA! \m/
— HMV High Wycombe (@HMVHighWycombe) February 20, 2013
20.2.13
Another sad Tweet just in from HMV Silverlink in the North East of England.....
Looks like our time has come to an end 😔 the HMV Silverlink store will be closing down, we'll keep you up 2 date with on goings #hmv
— HMV Silverlink (@HMVSilverlink) February 20, 2013
18.2.13
A bit of news on HMV Picture House inEdinburgh who are hosting a gig by Coles Corner vocalist Richard Hawley.....
History repeated itself last year when everyone's favourite modern romantic crooner was again 'robbed' of the prestigious Mercury Music Prize, this time losing out to the then relatively unknown electronic quartet Alt-J.
Not that Hawley seems bothered about any of that. The Coles Corner singer, who has been shortlisted in the British Male Solo Artist category at this year's Brit Awards, says he couldn't care less for gongs.
"The last thing I want is to win anything, unless it's the egg and spoon race," jokes the 46-year-old ahead of tonight's visit to the HMV Picture House. "Really, though, it doesn't mean anything to me.
"There's such a massive fuss made about these things and the hoo-ha seems to get bigger every year. The second it's over it's all forgotten about anyway - no-one ever remembers who won what. "Besides," he continues, "you don't make music to get awards. Having these big, glitzy ceremonies, it seems to be for the benefit of other people, namely big multinational corporations."
He may find himself nominated for every award going these days, but the former Pulp member and ex-frontman of The Longpigs says it was by accident that his solo career even began.
"I just couldn't find a singer that had the pre-requisite lack of ego and a deep enough singing voice," he laughs. "The bassist said to me, 'Why don't you just effin' sing it yourself then?' And I did."
Seven solo albums later and he still doesn't feel like he belongs in the charts, despite most recent album Standing At The Sky's Edge reaching No3 on its release last year.
"I think I still feel like I'm on the margin of things, I really do," he says. "I never feel like I'm mainstream although I do understand that it might look like I am to some people.
"Put it this way, I never thought I'd get this far. Never in a million years did I think that. I scratch my head quite a lot and I bet a lot of other people do as well. It's an unusual position that I find myself in - and sometimes I find myself laughing about it."
Hawley says he's looking forward to returning to Scotland, where he always gets a warm welcome from his fans.
"The best concert of my life, in 30-plus years of being a musician, was Glasgow Barrowlands," he says. "I doubt this will go down well with the people of Edinburgh, given the rivalry between you lot, but it was just unbelievable. I've never experienced anything like that. The atmosphere was off the scale.
"Having said all that, I love playing in Scotland in general - so I'm very much looking forward to playing Edinburgh.
"I felt I needed to say that last bit," he adds, laughing.
At tonight's gig Hawley won't just focus on his most recent album but will play a selection of favourites from his back catalogue.
"Call me old-fashioned, but I do like to play the older stuff as well. There will be quite a few from the last album, but I'll throw in some songs from other albums as well."
15.2.13
Great news for HMV as trading agreements are signed with principal suppliers.....
HMV has confirmed it has signed trading agreements with the retailer's principal suppliers, which will see the latest games, film and music releases continue to be sold within its stores.
They were in danger of losing supplies of new products without the agreements, but the deal will see new products continue to be sold within HMV stores – something that will undoubtedly aid the brand's fight against administration.
Commenting on the news, joint administrator for Deloitte, Nick Edwards, said: "We are pleased that these agreements are now in place, allowing us to replenish stock and bring in new titles. The support of suppliers over the past few weeks has been significant and these agreements demonstrate their on-going commitment to supporting HMV."
"Good progress has been made to date and we have received a positive level of interest in the business. Discussions are progressing with a number of parties interested in both the business as a going concern and individual assets despite the high fixed cost base associated with a store network.
"Landlords have been generally flexible and supportive and we hope to continue working closely with them to restructure the business and seek to secure its future."
14.2.13
A copy of part of the Twitter timeline today of HMV Blackburn who are fighting valiantly to save their store from closure including an
e-petition
which you can sign on the
HMV Blackburn Facebook
page.
It's Valentines Day so
follow them on Twitter
and show them some love.....
12.2.13
A quick look at the @HMVbase timeline on Twitter this morning shows that they're keeping their collective chin up in the face of adversity. Hopefully the upsurge in sales figures will continue and what has been an integral part of the British high street music will once again flourish. Go into your nearest store and give them some love!
Good morning to all the staff braving the ice and snow to get to work! We're a dedicated bunch

#savehmv
11.2.13
HMV has announced it is set to close all of its stores located in Ireland after its search for a buyer failed.
The retailer will close all 16 of its retail locations based in the Republic of Ireland as administrator for the brand, Deloitte, failed to secure a buyer.
300 jobs are expected to be lost following the closures.
All of HMV's stores based in Ireland closed their doors and staff placed on temporary lay-off after the brand entered into administration last month.
HMV issued a statement following the announcement..... "Since his appointment, the receiver has conducted an assessment of the viability of the company and has actively sought a sale."
"The marketplace is very difficult given competition from web-based retailers and digital downloads, compounded by a number of other factors including high levels of rent.
"All stores were loss making and it was not possible to attract a purchaser."
11.2.13
Just in is this Tweet from HMV Tallaght, the HMV store that's Tweet on the 17th of January started this blog.....
Today the receiver to HMV Ireland confirmed that all 16 stores will remain closed.Thank you for all your support and custom over the years
— Store Closed (@HMVTallaght) February 12, 2013
11.2.13
A sad to see Tweet just in from HMV Crescent in Ireland.....
It's official. HMV Ireland has closed it's doors for good. Thank you for all your support and custom over the years. #riphmv
— hmv crescent (@hmvcrescent) February 12, 2013
9.2.13
HMV boss Trevor Moore today became the latest casualty of another swathe of redundancies at the failed music chain.
Chief executive Mr Moore is one of 60 staff let go by administrators Deloitte across HMV's head office network at Eastcastle Street in London, Marlow and Solihull.
The job losses come on top of yesterday's announcement that 66 of its 220 shops are to close over the next two months, impacting 930 staff.





Mr Moore's exit comes weeks after he said he was 'convinced' the future of the chain could be secured. On the day HMV went into administration, he said bosses remained 'passionate' about the retailer and would 'like to be involved in the business going forward if the opportunity presented itself'.
8.2.13
SUNDERLAND's HMV store has been spared after administrators announced the closure of 66 branches.
Shop workers faced an uncertain future as fears mounted over the future of yet another high street store in Sunderland. HMV's collapse came after the fall of Jessops, which had a branch in Fawcett Street.
The administrators of HMV have said that 66 of the music and DVD retailer's stores will close over the next two months. The Durham and South Shields branches are both for the axe.
8.2.13
The recent news of the HMV store closures was all the more poignant for me as I read the list of Scottish stores that were to close, many of which I spent my formative musical years browsing in (along with Muirs in Cowdenbeath and Bruce's in Kirkcaldy and Dunfermline) and parting with my hard earned cash as my record collection expanded. I think it's fair to say that I can measure the path of my life in record shops and vinyl.
HMV in Princes Street, Edinburgh (Picture courtesy of Danny Lawson P/A)
The stores will continue to trade in the meantime, with no dates fixed for closure. They're expected to be closed over the next two months.
The Scottish stores affected include the Ocean Terminal, Princes Street and St James' Centre branches in Einburgh, at outlets at Glasgow's Silverburn and Braehead shopping centres.
Deloitte are also closing stores in Falkirk, Dumfries and Kirkcaldy and t
hree FOPP stores in Edinburgh and Glasgow will continue to trade, but at present there is no word on their future.
Scottish stores affected by closures
Edinburgh St James' Centre
7.2.13
Cambridge's HMV shop is not among the 66 stores the chain's administrators have identified for closure.
Staff at the Fitzroy Street branch will be breathing a sigh of relief following today's announcement.
HMV took over the former Clement Joscelyne premises in August after it was forced out of Lion Yard shopping centre due to a redevelopment project.
The HMV store at Stansted Airport is also unaffected.
7.2.13
Over 100 people in Northern Ireland face losing their jobs with the closure of nine HMV stores.....
In all 109 people work in the NI shops included in the 66 UK-wide that will close over the next two months.
Deloitte said that those due to shut in Northern Ireland include shops at Boucher Road and Forestside, Belfast.
Stores at Ballymena, Coleraine, Craigavon, Londonderry, Lisburn, Newry and Newtownabbey will also close.
Glynn Roberts, chief executive of the NI Independent Retail Trade Association (NIIRTA) said: "It is a sad loss to our retail sector both in terms of the jobs... But also it will result in less footfall for the surrounding traders in the high streets and town centres in which HMV operated.
"It is a sad loss to the employees and to our retail sector as a whole."
Mr Roberts said it was disappointing that HMV joined a long list of retailers closing their doors because of this recession. Across the UK, the closures will affect a total of 930 staff.
7.2.13
Just out, a list of 66 HMV stores subject to closure.....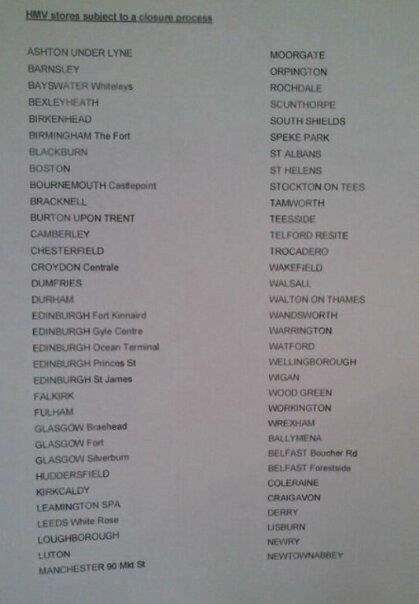 7.2.13
It has hosted Madonna, Coldplay and Primal Scream and Blur once played a gig on the roof but the rock'n'roll days of
HMV
's flagship store could be behind it. Administrators for the entertainment store will consider offers of £6m–£9m this Friday to take on the lease of the building at 130 Oxford Street, London.
Fashion chains H&M, Inditex, the owner of Zara, Japan's Uniqlo and JD Sports are among the frontrunners for the 50,000 sq ft site, said to be Europe's largest music shop.
Hilco, the restructuring specialist, is considering whether it can hold on to the site as part of its plan to run a downsized HMV.
The flagship store was said to have made annual profits of about £1.3m.
It is a destination store for music fans and bands, who line up to play on its in-store stage. Property sources believe the site will sell quickly because of its high value.
While the administrators, Deloitte, are officially in charge of the process, Hilco holds the reins, having bought most of HMV's debts last month.
It is expected to take on about half of HMV's current portfolio of 230 stores, although it is rumoured to be considering an option to cut the chain to 60 outlets or fewer.
5.1.13
HMV has sold its majority stake in G-A-Y Group to its founder Jeremy Joseph, marking the collapsed retailer's final exit from its music venues business.
Administrators Deloitte said yesterday that Joseph, who founded G-A-Y 20 years ago and grew the business to four gay and lesbian nightclubs including Heaven, has regained full control in a move that safeguards 200 jobs.


The G-A-Y group was the last remaining venues business to be sold after HMV sold its other assets including the Hammersmith Apollo and Mama group last year.
Rob Harding, joint administrator to HMV said the sale "will benefit the creditors of HMV and we wish Mr Joseph the best in the beginning of a new era for G-A-Y."
The deal comes ahead of a statement expected later this week from Deloitte that it plans to close between 60 and 100 HMV stores, endangering up to 1,500 jobs.
4.1.13
The person behind the "#hmvXFactorFiring" tweets has now been revealed as Poppy Rose Cleere who has now begun to explain the reasons behind her actions.
On Thursday, Cleere announced through the @hmvtweets account that 60 employees were being fired and that she was "live tweeting from HR where we're all being fired."
She later spoke out through her personal Twitter account saying: "I would apologise for the #hmvXFactorFiring tweets, but I felt like someone had to speak. As someone without a family to support/no mortgage I felt that I was the safest person to do so.
"Not to mention, I wanted to show the power of social media to those who refused to be educated."
She continued: "Since my intern-ship started, I worked tirelessly to educate the business of the importance of social media – not as a short-term commercial tool, but as a tool to build and strengthen the customer relationship – and to gain invaluable real-time feedback from the customers that have kept us going for over 91 years."
Cleere late pointed out that she was hoping that her actions would finally make HMV executives see the importance of social networking.
Far from putting off potential employers, since the incident she has apparently has "many job offers".
1.2.13
An employee apparently fired from music retailer HMV had let loose on the company's Twitter feed (below) to compare ongoing layoffs to a "mass execution.''
The rogue messages - which immediately attracted media attention - started with a missive saying "we're tweeting live from HR where we're all being fired! Exciting!!''
"There are over 60 of us being fired at once! Mass execution, of loyal employees who love the brand,'' another message said.
The person's identity wasn't clear but the Twitter messages came from the company's verified account, suggesting an employee was responsible.
In a statement, Deloitte, HMV's administrator, said that there had been 190 layoffs, most of them at the company's head office. "Although such decisions are always difficult, it is a necessary step in restructuring the business to enhance the prospects of securing its future as a going concern,'' Deloitte's Nick Edwards said in a statement.
Deloitte didn't immediately return a message seeking comment about the online outbursts, although it appears that someone eventually took control of the account. The offending Twitter messages - including one which said "what have we to lose? It's been a pleasure folks!'' - were deleted about an hour after they were first sent out (but not before Ralph copied it), and probably by the Marketing Director who asked how to shut the Twitter down (and who's keeping his job).
31.1.13 Well if you thought the HMV story had quietened down.....here's why.....
@hmvtweets
#HMVXfactorFiring
26.1.13


HMV's woes may have implications for the Indie film industry.....
As
HMV
slides into administration
, there's been an outpouring of nostalgia for the 92-year-old chain, not to mention sympathy for the plight of its 4,350 staff. With buyers circling, its fate lies either in a slimmed-down form or the annihilation of its 235 shops in Britain and the Republic of Ireland. It caps a grim couple of weeks for the high street with the DVD rental firm
Blockbuster
, which employs 4,190 people in 528 stores, also going to the wall.
But aside from the seemingly inevitable loss of livelihoods – plus the gaps the chains' demise will leave in our town centres – the biggest loser could be the British film industry.
While much is made of the growth of online retailers and movie-streaming websites such as Netflix and LoveFilm, the firms who actually fund, buy and distribute these films are still dependent on a buoyant high street to get their product out there.
Put it this way; you're yet to walk into a cinema to be confronted with a made-by-Amazon logo. While the online retailer reported a large but unspecified pre-Christmas sales bounce, typically 80% of DVDs and Blu-rays are still sold on physical "hard copies" through traditional retailers. In the next couple of years, insiders predict ever-tightening margins, brought on by the monopoly of supermarkets and online-only retailers, will have a catastrophic effect on our already frail film industry.
It's a sign of how powerful the behemoths of Tesco and Amazon have become that none of the film-marketing experts we spoke to wanted to go on the record. When you're faced with not one but two Goliaths, nobody wants to be David.
"The supermarkets make very, very good money from selling DVDs and Blu-rays mostly because they charge us these huge 'sighting fees', where we pay to have our films on their shelves," said one reluctant-to-be-named movie company's marketing executive.
"Typically, if one of our new releases makes £100,000 at Tesco, they'll expect a cut of between £15,000 and £20,000 which is a huge and unsustainable margin. With HMV, you'd pay £5,000 and for that you'd get in-store displays and print advertising.
"When you're routinely expected to pay tens of thousands of pounds to get your product on to the shelves, it makes less and less economic sense for us to shell out. We're in the position where we're paying a lot more to get a lot less."
When it comes to the ratio between box-office and home-entertainment revenues, figures vary wildly. Traditionally just 10% of a rom-com's entire take will come from its DVD/Blu-ray release but the figure rises to 40% for action, sci-fi and war movies – making their production most vulnerable to the changing home-entertainment landscape.
As our source said: "The bottom line is that a lot of British films just won't see a release. I'm thinking of something quirky and leftfield such as Made in Dagenham or the stuff Mike Leigh puts out. I also can't see a film like The Sweeney remake being made in the near future.
"Nobody will pay tens of thousands to get them on supermarket shelves because there's no chance of recouping your investment. When your profits are so squeezed, films like this just won't be made.
"We'll then reach a tipping point when, in perhaps two years time, I can see Tesco no longer selling DVDs or Blu-rays because they can make better profits selling baseball caps or jars of Marmite. When that happens there won't be a substantial physical market."
But he has little sympathy for HMV.
"We all have a lot of nostalgia for the chain but it's been bloody expensive for years and their customer service has got worse.
"They did the worst thing possible by screwing over their very loyal customers by cancelling orders and refusing vouchers. The first people they hit were the most loyal. If they manage to survive, they've alienated their best customers and that's appalling."
After an outcry, the chain's administrators, Deloitte, announced on Monday that vouchers and gift coupons will now be honoured. The following day, restructuring specialist Hilco UK bought HMV's estimated £176m debt, although the chain's future remains parlous.
It's an open secret among film executives that Amazon has become their enemy number one. The online retailer's pricing policy means that if any rival undercuts the price of their DVDs, they'll respond by doing the same. And if this results in the release making a loss, the film's distributor will be expected to foot the bill.
Another source – a publicist with a leading British film company – said: "There are typically 20 DVD and Blu-ray releases a week and the supermarkets will tend to take about eight of these. Because their shelf space is limited, you pay a premium to get your product up there and you have to be very sure it's going to make money.
"They tend to favour blockbusters and, sometimes, schlocky straight-to DVD action films, which means smaller foreign films, British indie flicks and arthouse movies are often passed over. So if HMV were to go under it would hit the bottom line of how much money these films make – and it is far from certain in the short-term that the money would be found elsewhere by increased online DVD sales or via video-on-demand rentals."
Tesco is keeping its cards close to its chest, with a spokesperson only saying: "Arrangements with our suppliers are confidential."
It's become part of the zeitgeist to talk of the death of the British high street. In just a couple of years, it might become part of the popular narrative that the demise of HMV rang the death knell of British cinema as we know it.
With thanks to Dave Edwards of The Guardian.
24.1.13
The part that Amazon played in HMV's downfall was laid bare today after the online giant delivered huge gains in the entertainment sector.
Amazon grew its share of the market for videos, games, music and digital sales of music by 3.1 per cent to a record 23.4 per cent over the 12 weeks to December 23, according to Kantar Worldpanel Entertainment. This compares with HMV, which collapsed into administration last week but continues to trade, growing sales by just 0.2 per cent to 17.5 per cent.
24.1.13
Here's a supermarket sweep for HMV stores......
It is reported that the high street retailer could sell up to half of their 230 stores nationwide with Morrisons, Tesco and Sainsbury's all believed to be interested in taking over stores and converting them into their own brand convenience stores.
The Guardian
reports that Morrisons is thought to be interested in up to 20 sites to boost its M Local chain, citing a lack of smaller convenience stores as the reason behind a poor Christmas period in comparison to their rivals. It is also understood that Morrisons could also look to buy up properties from Blockbuster, who
also went into
administration
earlier this month.
Needless to say the collapse of HMV has implications for the music industry in general.....
Many small record labels whose CDs are in the racks of stricken retailer HMV are anxiously waiting to see whether they will lose money as a result of its collapse.




22.1.13
One mans funny yet poignant tribute to HMV.....
This video came my way this morning via the wonder that is Twitter and I present it for your delictation. It's by Mark David Read of
A1
(recently reformed and with a new single out girls) fame, and it's brilliant, so here's his words on why he wrote 'Goodbye HMV'.
As I was watching the news on Monday morning, I found myself getting a little teary eyed over the reports of the last great music store HMV going into administration.

This fateful happening definitely symbolises the end of an era..if in fact they don't come up with a solution to keep this staple of the once great British High Street alive.

Inspiration struck & instead of tears, lyrics flooded out and for some reason it chose to come in the form of a parody song..

The song is somewhat 'borrowed'..who am I kidding..Totally Knicked..BUT inspired by my favourite artist of all time Elton John)


So here it is..my tribute to HMV.

Here's hoping they come up with a positive solution for everyone involved..but the future is certainly looking bleak for the music lovers and record buyers.


Disclaimer:

THIS IS IN NO WAY MEANT TO BE OFFENSIVE OR INSULTING TOWARDS HMV, AND I OF COURSE APPRECIATE THE SENSITIVITY OF THE SUBJECT.
THOUSANDS OF PEOPLE POTENTIALLY LOSING THEIR JOBS IS CERTAINLY NO LAUGHING MATTER, MY BROTHER HAS WORKED AT HMV FOR MANY YEARS NOW SO THE SUBJECT HAS A CLOSER CONNECTION TO ME, OTHER THAN JUST BEING A LIFELONG MUSIC BUYER.

Additional Lyrics, Co-directed & Superb (& intentionally shaky) Camera work by Kat Miller.


22.1.13
Well it's been a hectic day on the news front because as Ralph earlier predicted Hilco has effectively taken the reins of HMV. They've bought over the HMV debt from their bankers Lloyds and The Royal Bank of Scotland.
The debt was estimated at £176 million, however Hilco are believed to have paid much less than that due to HMV being in administration.
Although Hilco does not yet officially own HMV, the debt deal gives it effective control of the music and DVD chain.
An industry group of music labels and film studios, including Universal Music and Sony, were reported on Monday to favour a buyout of HMV by Hilco.
Needless to say this news will be welcomed by HMV emplyees in Britain however Hilco refrained from commenting at this time as to how they will be proceeding.
21.1.13

Hot Off The Press.....Too little too late?

Deloitte, the administrators of HMV have said that the music and DVD retailer will start accepting gift vouchers in stores from Tuesday.
Deloitte had previously said that gift cards could not be redeemed in stores, leading to anger among many customers. It has to be kept in mind that HMV previous to Christmas made a concerted advertising assault on an unsuspecting public in order to get them to part with their hard earned cash on the aforesaid gift vouchers. That had to have been done with the knowledge that administration loomed in January.
Deloitte said it was able to honour the vouchers after assessing HMV's financial position. Surely the fact that they were able to keep the stores open and full of stock meant that honouring gift vouchers shouldn't have been called into question in the first place.
One piece of good news for the Hillsborough Justice Collective.....
Administrators Deloitte have also confirmed that proceeds raised by HMV through the sale of charity releases (including the Hillsborough Justice Collective single) will be paid in full as soon as possible.
Nick Edwards, joint administrator for the companies that make up the HMV Group, said: "The ability of administrators to honour gift vouchers will depend on the specific circumstances of each case.
"Since our appointment as joint administrators on Tuesday afternoon, we have been urgently assessing the Companies' financial position.
"I am pleased to confirm that, having concluded this assessment, we are able to honour gift cards.
"I can also confirm that all money raised by HMV for various charities will be paid in full.
"We recognise that both of these matters have caused concern for individuals and organisations affected and are pleased to have reached a positive outcome.
"We will continue to assess the longer term options for the business whilst continuing to trade.
"I am hopeful this process will result in the business continuing as a going concern."


20.1.13
However.....
Reports are that there's been up to 50 expressions of interest including video game retailer Game. At the moment though Hilco who bought HMV Canada back in 2011 are front runners.
Despite the prospect that the retailer could be saved, Deloitte has no plans to start honouring gift vouchers – which has sparked condemnation from music fans unable to spend their gift cards, many of which will have been received as Christmas presents.
19.01.13
So great news for the Irish HMV staff late last night as this Tweet came through.....
19.1.13 The staff at HMV Tallaght sent this Tweet to everyone who had shown their support for their cause.....
17.1.13
So Twitter's alight this morning in support of
HMV
in Tallaght, South Dublin in Ireland however they're not alone in their plight to get paid their wages by administrators
Deloitte
.
Staff at various HMV branches across the country are continuing to stage sit-in protests over fears that their wages will not be paid.
The retailer announced on Wednesday that it was closing its Irish stores temporarily after going into receivership.
Protests are also continuing in Limerick on Cruises Street and at the
Crescent
shopping centre branches.
You can follow them on Twitter
@HMVTallaght