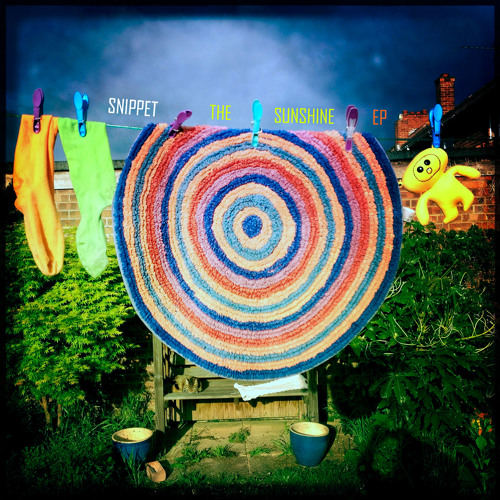 Snippet
aka
Johnno Casson
is the quintessential English musician. Prolific, diverse, entertaining, clever, wistful and whimsical (no more so on his previously released mini-album '
DIY
' and the track 'Let's Talk About Us' on which he comments on his winkle (and he isn't introducing us to his pet mollusc Brian). Prolific as ever
Snippet
has released an EP of tracks that should be on everyones 'Summer Playlist' and it's called, appropriately enough, 'The Sunshine EP'.
Previously Ralph's referred to
Snippet
as being
all things to all listeners bringing you everything from funk to electro.
If you haven't already been introduced to his inimitable stylings then this is the perfect lead in...go and seek out his back catalogue or even better check him out live...I think you'll find he's one of the nicest blokes you'll ever meet,
as was proved when he kicked off the
Ralph's Life CD
all-dayer in London's Proud Camden earlier this year.
The EP was performed, recorded, produced and mixed by the man himself and mastered by
Wim Oudijk
.
Snippet
was quoted as saying "the EP is
six unique nuggets of sunshine 'SnipHop' that are
big on bounce, low on fat (but always 'phat') & full of technicolor loveliness."
Following on from the previously mentioned and critically acclaimed D.I.Y Album,
Snippet
takes it up a notch with a batch of killer songs cloaked in sweet layers of retro synths & hand crafted loops, topped off with vocal hooks to die for...
music to lift your spirits & put a spring in your step.
From the first bars of the lead track 'We Luv The Sunshine' the lyrics are uplifting and the whistling infectiously cheerful. Second track in and the instrumental 'This Way Up' with an
Ivor Cutler
harmonium vibe leads you into the optimistic and bouncy 'Can I Luv You'.
'Misplaced Youth' is a more soulful, reflective track whilst 'Run For Your Life' moves up a gear again with a 'SnipHop' vibe, finishing off with the quirky 'fLIP' showing just how versatile
Snippet
can be.
We Luv The Sunshin
e
by
Snippet
If you don't believe me then...
"
Snippet
: A National Indie Treasure…The most played artist ever on
BBC Introducing - Fresh On The Net
"
Tom Robinson
BBC 6 Music