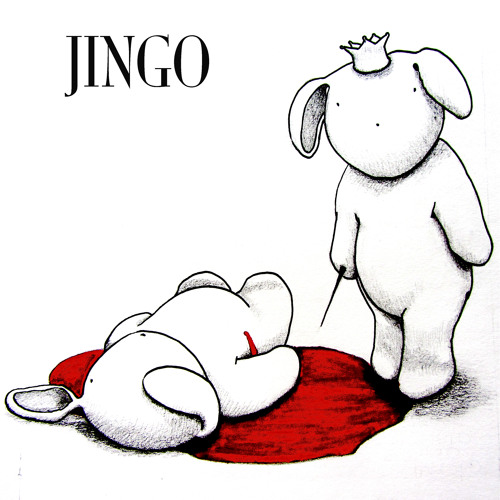 With the majority of unsigned bands pushing their music via the EP recently it's nice to see that a band has the confidence in their songwriting ability to produce a complete album of twelve tracks in order that the listener can get a real handle on their music.
London based, four-piece alt rockers
Jingo
have done just that with the release today of
The Art Of Loving.
Comprised of husband and wife Jack and Katie Buckett along with friends Chris Smith and Joe Reeves they've compiled some delightfully mean and moody music that highlights Katie's crystal clear vocals.
The album brings variety and individuality from
Jingo
as they metamorphosise from being a 'compared against' outfit, to being very much the masters of their own musical universe.
The Art Of Loving
kicks of with the angsty, bass driven
Black Flowers
and it's the perfect vehicle for Katie and a strong contender for a single release.
The subtly understated Sky Punch wouldn't be out of place as a Bond Theme whilst the addictive When You Want Me has a wider appeal with its stick in your head lyric and stylish guitar work.
The aforementioned angsty bass is back in the lead in to
Belong To You
but it's a more uplifting track vocally underpinned by with a nicely 'choppy' guitar riff.
The short and soulful
The Art Of Loving
takes you by surprise before leading you into the alt rockier
Home
and anthemic Blue Wail. Both tracks which showcase the consummate musicality of
Jingo
.
More uplifting vocalising on the hopeful Before You Were Born which soars into a vocally more powerful and punchy
Jaclyn
and it's back to mean and moody for
Jingo
.
The smouldering 'Torch Singer' vocal by Katie on Same Without You gives it a mournful yet seductive feel which is offset by some almost prog rock guitar work.
The album finishes off with the bouncier and mysteriously named 1Q84 and some choppy guitar that wouldn't be out of place in 1984 whilst the plaintive Don't Call It Love finishes the album in style with more powerfully understated vocals overlaid on stylish axe work.
Jingo
are having an album launch party on the 17th of October in London's
Cable Street Electric
and you're all invited - but for now you can order
The Art Of Loving from the
Jingo
Bandcamp page.
In the meantime here's the new video for 1Q84...