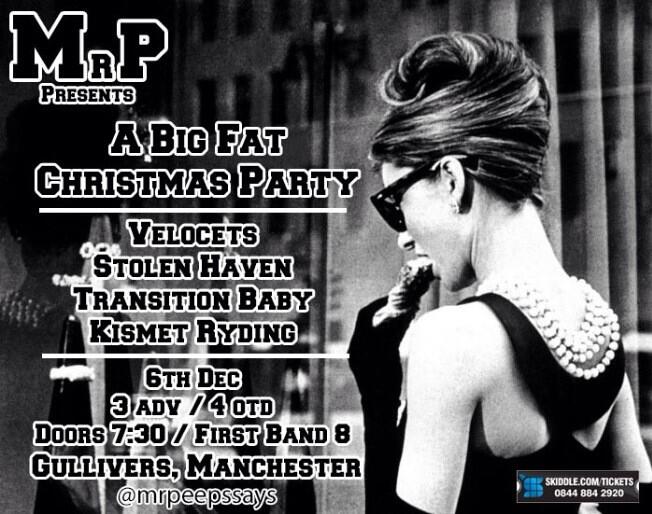 I've been looking forward to the enigmatic
Mr Peeps
Big Fat Christmas Party for quite some time now, so when it came to setting out for
Gullivers
in Manchester's Northern Quarter I was full of great expectations...and wasn't to be disappointed. This was the second of the
Mr Peeps
events (the first was in
The Castle Hotel
, Manchester back in August) and featured three local bands plus one from Grimsby. Thanks as always to
Trust A Fox Photography
.
First band up to a nearly full crowd, Grimsby's finest
Kismet Ryding
. I was first introduced to their sound through
The Online Festival
about 18 months ago and what a difference a year and a half makes.
A thoroughly engaging, full on set with charismatic front man Mike Freeman hitting the stage running like the bastard child of Captain Beefheart and Tom Waits while Jazz White on Drums and Tom (bass) & Josh (guitar) Humphreys providing musicality of the highest order. From 'Last Nights Stains' to 'Hope & Glory' they grabbed the ever growing audience by the proverbials and didn't let go. Live music doesn't get any grittier than this!
Next up
Transition, Baby!
a band I'd caught in The Dry Bar, Manchester last year at an Online Festival gig. They've been taking a bit of a break from gigging, however that didn't show as they bounced into a 100 mile an hour set that had the crowd jumping. Their track 'Manners Are Wasted On You' (the first track on their debut EP) was a real crowd pleaser and I hope that this is the return to regular gigging for these lads.
Third set came from the ever reliable
Stolen Haven
. Again I'd caught them at The Dry Bar last year and they played a storming set then. Tonight was no different as they had the crowd bouncing. They never fail to deliver and Andy Brides rock steady vocals a treat as always.
Solid back up from his brother Andy on drums with bassist Matt Edge and guitarist Jimmy Gardener were on fire. 2014 is going to be their year if they keep up this standard of live performance, garnering new fans at every gig.
Final set was the third of the Manchester bands, and boy were the
Velocets
pumped up for this one, despite the fact that drummer Dom was announced as leaving the band. With tracks like 'Sophie' and 'Naked' (prophetic track as the pictures will prove) pounding out these young lads whipped the crowd up into a frenzy.
By the time they finished the set with 'Secrets' the crowd had invaded the stage (including Mr Peeps) and the proverbial good time was being had by all! Word on the street is there's another Mr Peeps night in the offing, so take my word for it, it'll be a night not to be missed!