Looking for some down and dirty, bluesy and gritty, edgy rock 'n' roll? The look no further than
Burning Condors
as they're producing just that in spades!
London four piece
Burning Condors
emerged when Marcus Thompson left his roots of Bradford and moved south to London to find acting work and met band mates to be Matthew Edun and Churchy.
With Marcus influenced by British acts l
ike
Joy Division
and
Bowie
and Matthew an old school blues nut, the pair introduced each other to their record collections to create a noise which led one reviewer to gush -
Burning Condors
have distilled the essence of the blues, added a dash of rockabilly swagger and forced it through a modern art punk filter to come up with something fresh and new'.
After cutting their teeth on the London gigging scene, they earned a break with a run of support slots for Punk Blues favourites the
Legendary Shack Shakers
.
After seeing
Burning Condors
strut live, producer
Mark Robertson
invited the boys out to his studio in Nashville, Tennessee to cut their debut album. The record also features the talents of
Col JD Wilkes
of
Dirt Daubers
and
Dave Roe
from
Johnny Cash
's band
Tennessee Three
and is released September of 2013.
Although their sound naturally draws comparisons to bands from the other side of the Atlantic, they're most definitely a product of their immediate environment and wear their London roots along with their combined musical heart loud and proud on their sleeve.
Alongside their devotion to their craft as musicians,
Burning Condors
collaborate with emerging photographers, illustrators and animators from the UK's exciting art scene to create visuals which add a new dimension to their music. The cover art for 'Dirty Girl Blues' was produced by
Danny O'Connor
(aka DOC) who has exhibited alongside some of the world's leading urban artists including
Banksy
and
Adam Neate
. DOC often leaves paintings on the street for people to discover and take home.
Burning Condors
' debut album 'Round Our Way' is due to be released in September 2013. 'Round Our Way' was recorded at Stainless Sound Studios, Nashville and features a guest performance from the aforementioned Dave Roe.
Hot on the heels of the release of their 2nd single 'Knockout', a track described by Fortitude Magazine as - "150% old-school hot…slinky to the point of slithering out of the speakers" - the new single 'Dirty Girl Blues' is released on 15th July 2013 through Snakehand Records.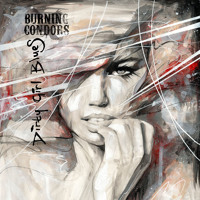 From the first grinding, sliding guitar and cocky vocal backed up by a solid beat (shades of
Doctor Feelgood
) 'Dirty Girl Blues' grabs you by the short and curlies and doesn't let go as it's soaring slide guitar digs it's nasty way into your heart and soul. Proper old school and it's
Ralph's Record Of The Week
on
Radio KC
this week prior to its release on Monday.