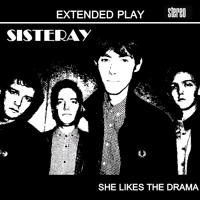 Ralph checked out London band
Sisteray
back in August last year when they released the single 'Take It Away. Since then they've been gigging relentlessly and have also got a new EP 'She Likes The Drama' coming out on 17th February 2014.
Sisteray
were formed in 2012 and consisting of lead singer and guitarist Niall Rowan, lead guitarist Daniel Connolly, drummer and brother Ryan Connolly and Bassist Michael Hanrahan. Despite being together for a relatively short space of time, the band have already managed to sell out such notable London venues as
The 100 Club
,
The Rhythm Factory
and the infamous
Monto Water Rats
.
Lead track, a very pop-esque 'She Likes The Drama' is all infectious jangly guitar riffs while 'Rollin' Over is meaner and moodier and that continues into 'I'm Free' with a heavier '70's feel finishing off with the lyrically sound 'Coming Up'. The EP is more of a coming of age for this young London band and bodes well for the future.
Gigging since the summer of 2012, the band has carved out a strong fan base in the UK. Impressively for a band that only formed in 2012, they have managed to sell-out venues across the UK, playing to an ever faithful following.
So much so Ralph's snapped them up to play at the London launch party for the Ralph's Life Charity CD in
Proud Camden
on March 2nd. they're also doing the following gigs -
1
st
February 2014 – Shoreham-by-sea (TBC)
19th February
2014 – 'EP Launch', London (TBC)
23rd March 2014 – Modernistique Festival
26th April 2014 – Colliers Wood Arts Festival
3rd May2014 – ModFest