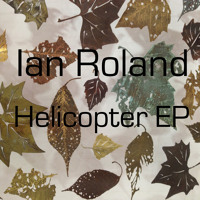 It's no secret that despite his penchent for Indie rock music, Ralph's fond of a bit of Alt-Folk too. So when the new EP 'Helicopter' by
Ian Roland
dropped into the inbox it was on with the headphones and press play. Ian is a singer/songwriter from Brighton who has a talent for writing contemporary folk songs that cast your mind back to the musical stylings of an early
James Taylor
or
Gordon Lightfoot
.
Helicopter
by
Ian Roland
The EP kicks off with 'Hate' and it's exactly the opposite effect that this infectious ballad has on me (probably my favourite track).
The EP, which he produced along with
Jake Skinner
and which was mixed and mastered in
Cobb's Mill Studios
continues with the delightful 'Songbirds' and Ian's innate ability to write gentle lyrics and meld them with comforting melodies make this the perfect follow-up track by this highly talented multi-instrumentalist.
'Got You Annie' has it's bones in
Loggins and Messina
and it's
followed up by 'Never Be Lost' with
Ian Roland
showing he has an old Californian soul. As if to prove that
'Shooting Star' is a more reflective, acoustic track with shades of 60's San Francisco in it's gentle melody,
whilst the eponymous 'Helicopter' is a more upbeat slice of original Alt-Folk niceness. This collection of songs is a must have for any serious folk lovers CD collection.
April
May