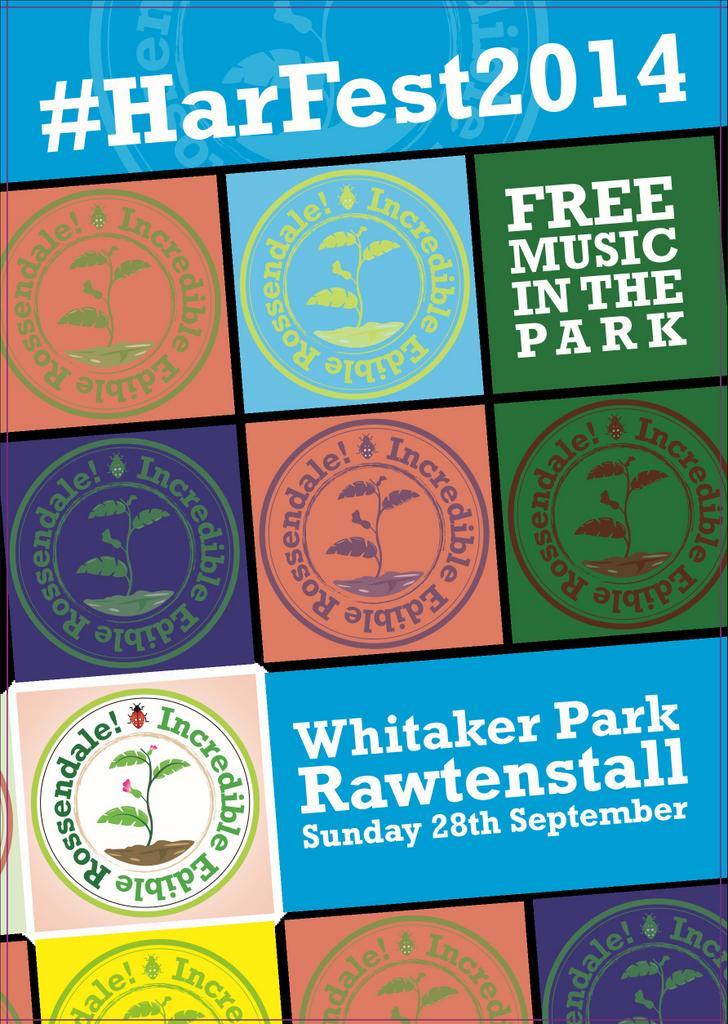 Now it's no secret that as well as his love of Indie music Ralph's a fan of local, fresh organic food, so when fellow music blogger
hiapop
(Paul Scott-Bates) told me about his involvement with
HarFest 2014
in Rossendale that celebrates both of those passions, it was time to investigate.
The festival is linked to the outstanding work done by
Incredible Edible Rossendale
which was set up by Paul and his good lady after being influenced by the
Incredible Edible Todmorden
project which is regularly visited by the likes of
Hugh Fearnley-Whittingstall
and
Prince Charles
.
Time to have a word...
Ralph: What's behind the
Incredible Edible
project?
Paul: We all have one thing that binds us together, the need to eat.
Incredible Edible
encourages people to grow and eat fresh food, teach them to prepare simple healthy meals and source as much as possible locally. This is where the huge emphasis of working as a Community comes into being.
Ralph: So how did
HarFest 2014
come about?
Paul: A
t the first
IER Harvest Celebration
in 2013 the idea struck me to combine my alter ego of
hiapop
Blog and my love of music with the ethos of fresh local produce. After reviewing over 200 artists for
Louder Than War
, I decided to try and coax a few of them to come and play live at our second event, and
@HarFest2014
was born!
Ralph: So who can we expect to see on the day?
Paul:
The generosity and friendship of
Rose Redd
,
Ceiling Demons
,
The Ree-Vahs
and
My Little Brother
(who have just released a new album) means that we can have four very different genres of music being introduced to an audience who might not have heard them before. It boasts the profile of a free, local event and brings everyone together!
We'd hoped to have
Helen McCookerybook
, but she sent her apologies for not being able to play (in Brighton on the same day) by means of CD's that we'll raffle off.
With that in mind,
Ralph
has now sent some of the fabulous
Ralphs Life Charity CD
's (along with a selection from bands and artists he's reviewed recently) and we would love any other artists to offer a handful of CD's, or other merchandise that can be offered up to help raise funds. There's a small
HarFest Website
where the artists will be thanked for their kindness. There will also be a handout at the event listing artists, donors and their respective websites.
The inimitable
hiapop
's reputation in music bloggery precedes as is shown with the eclectic and quality talent who have agreed to play, including
Ceiling Demons
who recently stole the show at the
Doune The Rabbit Hole Festival
'Spoken Word' tent.
Rose Redd
is a beautiful contradiction. Twenty years in age but unfathomably older in soul, her music has its roots in darker days, experiences, and stories and finds its bloom in both release and connection.
Her poignant verses and explosive choruses let you know that she makes music because she has to.
Ceiling Demons
are an alternative hip hop trio from North Yorkshire, England. The group first came together in 2011 to pay tribute to a lost friend, a theme that has permeated the music ever since.
The Ree-Vahs
write traditional folk music with a modern twist from the Borders of Durham and South Northumberland, generally with a bit of a twist and about life, love and loss (all the good stuff).
Their latest album 'Geordieland' comes with no small amount of critical acclaim and this would be an excellent opportunity to avail yourself of a live performance!
My Little Brother
were formed when a group of people who like music got together and, fueled by gin and haribo, wrote and recorded some.
Their debut album "If We Never Came Down" has received amazing reviews and loads of airplay and they are all getting quite excited about what the future may hold.