What does.....
The Cavern Club
in Liverpool.....
The House of Commons
in London.....
Alice Cooper
..... MP for Walton
Steve Rotherham
and
Deep Purple's
Ian Gillan
have in common?
They won the government backed
Rock The House
Competition, held in the
House of Commons
, which is sponsored by
The Cavern Club
and whose patrons include rockers
Cooper
and
Gillan
after being put forward by their local MP
Steve Rotherham
!
Why did he put them forward I hear you ask.....well it's obvious, quality indie/pop tunes like '24 Hours'.
It's a little anthem of a 'Power Pop' tune. A crowd pleaser and a teaser for what's to come.
'Days are Speed' has hit written all over it. It's got an
Aztec Camera
feel to it, nice choppy
Roddy Frame
like guitar running through..... definitely one to get the joint jumping!
If you're looking for something a bit heavier then the meaty 'Something I Said' is for you.....great drums n bass running through it.....one that got this Jack Russel's head noddin'.
The Verdict
style themselves as '
a big guitar, throbbing bass and pounding drums kind of band' and they're not far wrong.
Here's a link to the video of their recent set at the Liverpool
Mathew Street Festival
.....
Mathew Street Festival: The Verdict | Bay TV Liverpool
The band consist of Gaz Wilcox, Josh Ferrigan and Kev McKay and given their recent success it's not surprising they have their sights set on bigger and better things for the band.


If you want to hear all their demo's you can listen to them at
The Verdict Bandcamp
page.....
The've got some big gigs coming up, none more so than the
HJCLondon Rocks
night.
The Hillsborough Justice Campaign (HJC) is a non-profit organisation supporting the families of the 96 Liverpool fans that died on the 15th April 1989 in the Hillsborough tragedy and their continuing fight for Justice.
HJC Website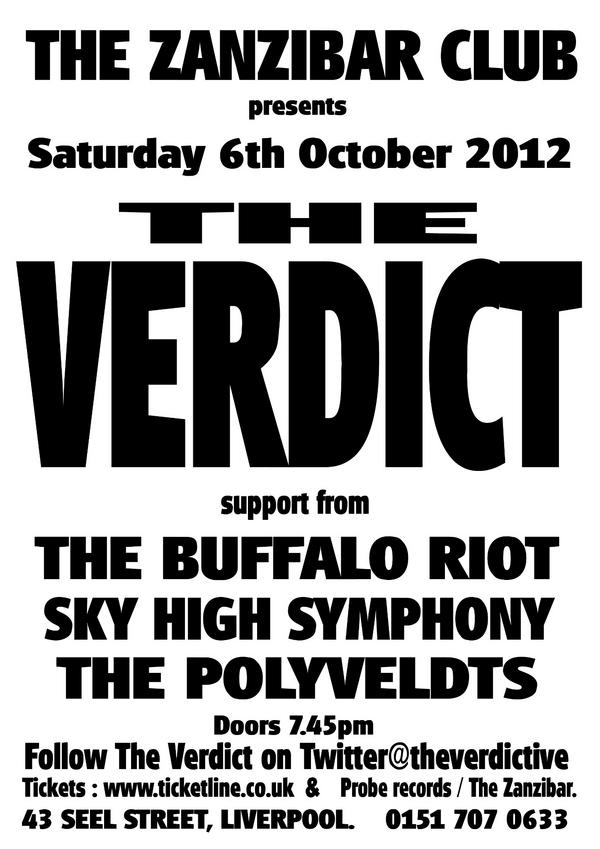 Saturday, 15 September 2012

at

17:00






Saturday, 6 October 2012

at

19:30



Sunday, 14 October 2012

at

12:00