Ralph played London duo Kat and Drew Five aka
Feral Five
the other week on his
Radio KC Sunday Show
to positive feedback. Describing themselves as - "raised by wolves on a diet of punk rock, disco and roots" - they've had no small amount of critical acclaim for their debut EP 'Skin' including
a 9/10 review from
LouderThan War
who said they "might just have released the best single of 2013". They've also had the nod from
Alan McGee
.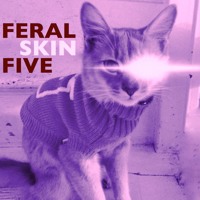 They've headlined the Hackney
Oxjam
music festival, played
Dingwalls
with
The Woodentops
, and venues such as
Death2Disco
at
Notting Hill Arts Club
, and the Red Vomit night in East London.
The EP includes title track Skin, a 'monster' dub mix, and club mixes by
The Woodentops
'
Rolo McGinty
who pioneered Indie dance in the Balearic scene.
Feral Five
built a video for the track 'Skin' sourced from Vine video clips of people's skin sent to them via
Twitter @feralfive
!
The track 'Skin' is also on the
Ralph's Life Double CD
being produced to raise funds for the mental health charity
Rethink
.
Well today's the day as Feral Five have just released the track 'Strung Out' and is available now to stream and download on Primitive Light Recordings! It's a fabulously funky fusion of quirky and typically English electro/disco pop.
Belka Films
have made a surreal cyber-punk inspired video for the track, shot in dark corners of East London amongst broken but living technology and featuring creeping cables, a computer heart and a giant rat's cage. Think David Lynch meets Shinya Tsukamoto.
Ralph's thanks to Calvin Richards for his guest review of the
Feral Five
Oxjam Hackney Attic gig on 26.10.13.
Now in it's 7th year, the Hackney Attic hosted Oxjam Music festival, a volunteer organised event that raises money for Oxfam.
They headlined a wonderfully eclectic line up. Natalie Mortimer, Eliza Brown, Nukli and The High White Clouds all combining to kick off Hackney's Oxjam debut in grand fashion.
There's many factors that make up a great live set, but fundamentally you've got to have presence. Something that makes you stop, delay that trip to the bar, and stick around to see what's going to happen next, they have this in spades.
Kat Five is as charismatic a front woman as you'll find. Think savage glam with addictive vocals and your half way there.
From the opening heavy bass lines of 'Shake It' I'm glad I'd got my beer in early.
A two piece can get lost in venues, you can't lose the Ferals as Kat Five brazenly stares down the audience while her partner Drew prowls by, snappy crisp bass lines snarling out a disco punk energy that's both infectious and alarming.
Reassuring us after this stark opening that - "We don't bite.." - they then ensure they have our undivided attention.
'Invisible' and 'Strung Out' advance the post punk/funk vibe, 'Skin'
the title track to their EP, forges ahead in an almost primal furor. Clearly they've fused their unique elements together and the payback is an untamed set that confirms them as a thoroughbred live act.
"Raised by wolves"- but with a genuine pedigree.
Go see!