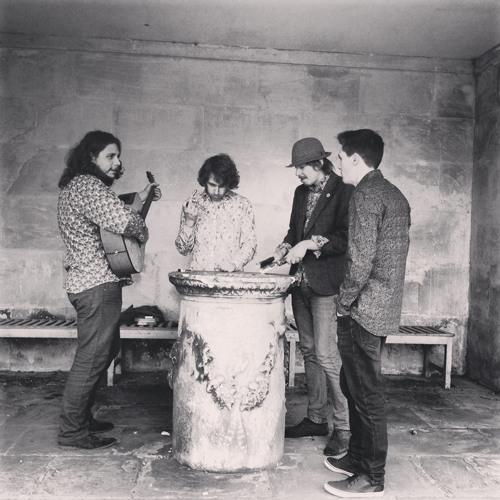 Having kept an eye on
The Online Festival
over these last good few months it's no surprise to me that Grimsby band
Kismet Ryding
would be on the verge of releasing an EP. It's called - 'Look.See.Don't.TRIP.' - has six tracks and it released on the 14th October and word on the street is you can get it on vinyl too!
Kismet Ryding
are Mike Freeman - Vocals, Josh Humphreys - Guitar, Tom Humphreys - Bass and Jazz White - Drums.
Title track 'Look.See.Don't.TRIP.' is a 100 mile an hour rock 'n' rolla with thrashing guitar, crashing drums, thumping base and gritty vocal. It lulls you into a false sense of security half way through before grabbing you by the scruff and leading you into a frantic guitar riff. It's
Tame Impala
on speed.
'Last Night's Stains' is meaner, moodier and an old favourite of Ralph's. Great to see it on the EP. 'Good Good Way' lightens the mood with a hint of
The Charlatans
about it. 'Most Famous' get's moodier again with grim lyrics and a much more psychedelic feel. 'Coming Up' has a
Kinks
vocal feel but with
Yardbirds
guitar, a very Sixties vibe, whilst 'Hope and Glory' has a more 'shoegazy' feel to it.
Having formed
Kismet Ryding
nearly four years ago after
Tom and Mike hit the town seeking their first musical venture on what would grow into the current band. They booked a gig, which they planned on playing a few acoustic tunes, and then had a jam with Josh and Jazz, unaware that the next time the four got together, song's would just flow out of them to make an 8 song set list!
The EP is a real coming of age for the group. Tight, well crafted but frenetic tracks that are designed to get any live audience jumping and a perfect foil for frontman Mike Freeman's in your face vocals. Keep your eyes open for gigs, 'cause this North East band is one to be savoured live and at full volume!
"Their sound is straight up, no nonsense brit-rock and when it works in their favour,
Kismet Ryding
possess quite a powerful live presence" -
BBC Introducing
.