OK bands you know the score.....
the more hits your blog gets by the fans, the higher you go.....
So Tweet it, Facebook it.....
and generally expose yourself.....
Now Mr Snuggles and me have been sitting with our heads down counting the hits on each bands blog to see who's got which place.
The Top Ten Blogged Band Chart .....
One of the highlights of Ralph On Tour at the Edinburgh Fringe was the first night at
Queen's Hall
where Stanley Odd and the
Electric String Orchestra
were performing. When it comes to
Stanley Odd
I'm a wee bit (OK a lot) biased, so by way of neutrality
I met up with my man in Scotland, the inimitable
Mr Malcolm Parry
and he accompanied me to check out the gig. What I will say is that it's as real, raw and exciting live as I'd expected - some say 5 star I'd say 6
No 2 .....
The Holy Orders
Now if a band releases a debut album with the word dog in it then it's only to be expected that Ralph will sit up and pay attention. That's exactly the case with the recent release by Hull Alt/Punk rockers
The Holy Orders
who've recently released 'For The Ears Of Dogs To Come' on
Coal Shed Records
.
Ralph's man in Scotland, Malcolm Parry first saw
SAMA
award winner's
Culann
live in Edinburgh back in April while they were on a double header tour with
Mechanical Smile
. Unfortunately not a great turn out which was a shame as he really enjoyed their set's, so much so when the band announced a headline show in Glasgow he had to go and see the mighty
Culann
again.
Ralph's man in Scotland has ventured over to the West Coast and on arriving at the venue,
The Berkeley Suite
in Glasgow, leaves the Scottish sunshine for a night of darkness.
A slick hideaway situated in between a few
No 5 .....
Snippet aka Johnno Casson
Snippet
aka
Johnno Casson
is the quintessential English musician. Prolific, diverse, entertaining, clever, wistful and whimsical (no more so on his recently released mini-album '
DIY
' and the track 'Let's Talk About Us' on which he comments on his winkle - and he isn't introducing us to his pet mollusc Brian).
No 6.....
The Bedroom Hour
Ralph's sent his intrepid reporter
Malcolm Parry
out into the wilds - yes Bathgate no less - to bring you a live review of
The Bedroom Hour
, and this time he's come back with a corker.
The night was originally advertised as three bands, unfortunately the opening act from Fife -
Calm As The Colour
had to cancel, but never mind they still had Somerset's indie rockers
The Darlingtons
Ralph's search for North West bands continues and who better to look at next than Runcorn based
The Fireflys
. The current line up is the result of a number of line-up changes, much soul searching and angst but the band have come through the stronger for it. The current line up is founding member, guitar/vocalist Lee Wylding, Stephen Roberts on bass and Andrea Packer on drums. They feel they've found the right mix to drive forward and build on the success of last years critically acclaimed 'Cathedral For Your Ashes' album.
No 8.....
Burning Condors
Looking for some down and dirty, bluesy and gritty, edgy rock 'n' roll? The look no further than
Burning Condors
as they're producing just that in spades!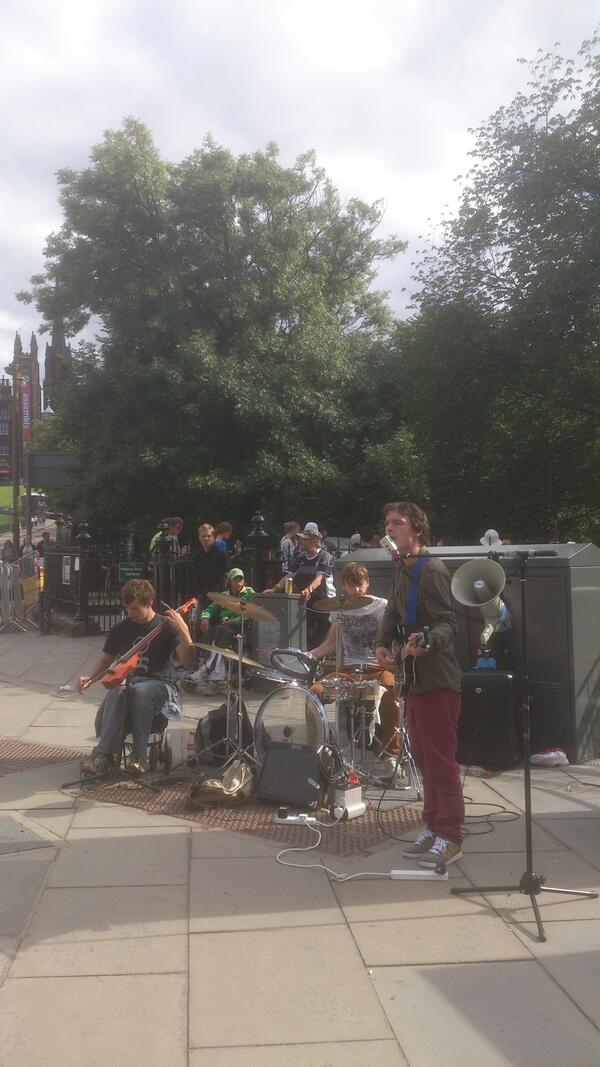 S
o Ralph's wandering along
Edinburgh's Princes Street
whilst on tour at the
The Fringe
when, instead of the sound of the usual piper at the foot of
The Mound
, some gritty, bluesy notes were ringing out and being of an inquisitive nature it called for investigation.
Doing a busking session were young Edinburgh band
The Dark Jokes
, and judging by the size of the crowd that had formed and the amount of CD's they were selling, they were the ones that were laughing! They describe themselves as a band with brooding sounds, bold words and big ideas.
Everybody likes to make a comparison about artistes and Ralph's old man is no exception. He heard
Wullae Wright's
'Halo Effect' playing on my laptop and next thing he was wiping the dust of his collection of vinyl, dug out
Led Zeppelin I
and stuck it under my nose...