So a dragon that does magic and a dog for a partner, what's not to like! Given that I'm a Jack Russell with a 20 second attention span I find magic acts amazingly - magic, and despite his protestations at his Edinburgh Fringe show that he's trying to lose his magical ability
Piff The Magic Dragon
has got it in spades!
I first caught
Piff
and his friend
Mr Piffles
(rescued from Dundee) on
Penn & Teller
a few years back and have followed their career with interest ever since. Now, reluctantly assisted by the sullen Amy Sunshine they're
Edinburgh Fringe
favourites so when I had the chance to get up for some shows this year they were top of the list!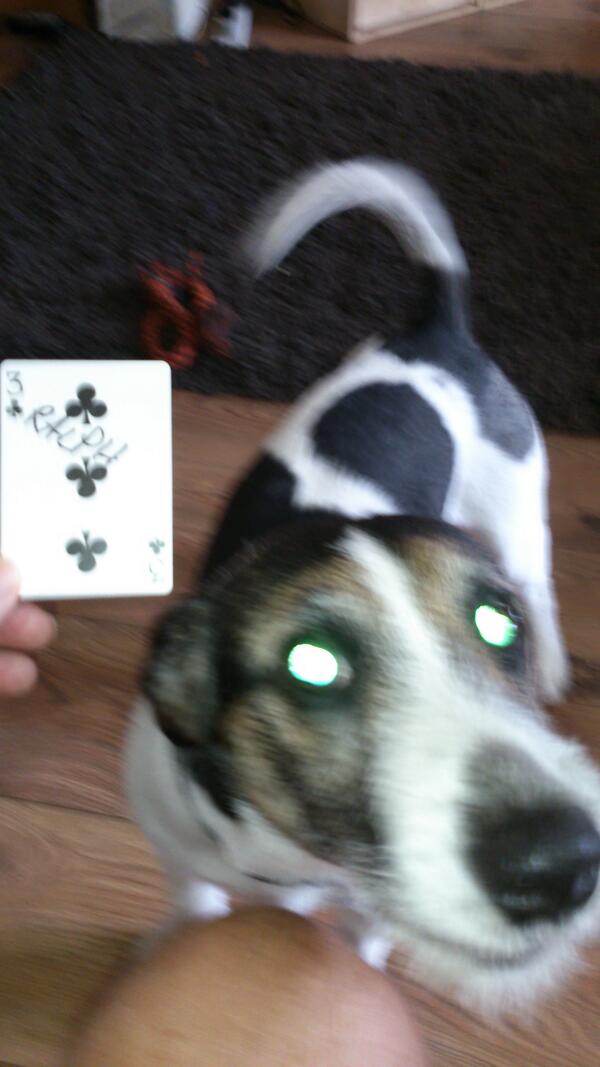 Piff The Magic Dragon
has a droll, deadpan style in a Tommy Cooperish stylee that makes you laugh from his first almost reluctant stroll onstage. As for his magic, it's as skillfull as he is funny, ably assisted by the worlds only million pound chihuahua, the adorable
Mr Piffles
.
The running trick throughout the show involved 52 playing cards signed by members of the audience as they queued
( yes Ralph was one of them ) for the show.
Piff cleverly uses them to try and lose his magic Midas touch constantly employing audience participation to increase the mirth levels. If proof were needed that Ralph was at the Fringe here's his magic card as used in the show - ta-daaah!
Me and Piffles have a bit in common 'cept I can't levitate or had my paw broken ( you have to see and hear it to believe it ) on stage! Laugh - I nearly wee'd myself - fortunately I'm house-trained!
Don't take my word for how funny and talented he is go see for yourself. Piff The Magic Dragon, Mr Piffles and the sultry ( sorry - sullen ) Amy Sunshine are on until the 28th of August in the
Pleasance King Dome
, Edinburgh followed by a run in the
Solo Theatre
, London from the 15th to 27th October. Go see him - or the dog gets it!