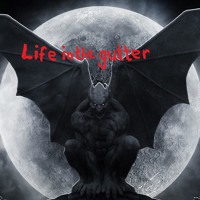 Welcome to Ralph's cultural corner. I bring you mutterings and musings from the Gutter of
The Grumbling Gargoyle
aka
Lynn Gerrard
. Lynn's been hoarding a wealth of written material which she's only now decided to bring to you via the marvel that is Soundcloud, using the spoken word to bring her writing to life.
Her new EP '
Life In The Gutter
' is a selection of seven short poems which can be funny, introspective, haunting and dark. Take a walk with
Lynn
on The Dark Side if you dare. Ralph likes to call her the female
John Cooper Clarke
.
Ralph's favourite is 'Generation Text' - a funny, although somehow chilling commentary on the social media generation on which we all seem to rely so much nowadays.
Another, seemingly politically incorrect, aggressive and yet accurate take on modern life is 'The Kid'. From the first line of 'Stick another pie in the fat kid' your PC hackles are up, but by the end you're heart goes out for the loss of the child and you can only wonder where we're going wrong as a generation.
Lynn's writing style can be as funny as it is often gruesome, as heartfelt as it can be seemingly malign. She shows her softer side here though with 'Removal'.
With the short sharp and very funny 'Best Friend' she definitely shows her rapier like wit. You can find a selection of Lynn's work both written and spoken on her website
The Grumbling Gargoyle
.
Hopefully the next step for Lynn will be live performance and maybe Ralph will be bringing you her debut live performance video soon!