After the critical acclaim for their first release 'Money Now', Manchester 'lo-fi' duo
Kill For Company
are releasing a second guibass and drums driven monster of an EP on the April 20th. Michael Banfield vocals/guibass and Mark O'Donoughue drums have brought us a well crafted behemoth of sound in 'Alternative For Living'.
Their ethos seems to be that the song is the heart of their musical travails. They're bringing the listener into their world with an emotive one-to-one connection. The experimental, unhindered and natural flash of genius which lo-fi seems to bring to their musical table, gives us an honest display of emotion and feeling. Jeez I almost felt like a 'muso' there.....
Thanks to
Manchester Sounds
Photography
Michael created the "Guibass" - in essence a lead guitar with two bass strings at the low end, re-jig the pickups, adjust the strings and then split the signal through a bass and lead amp. Much easier said than done and despite all advice to the contrary the "Guibass" was born. Like Mary Shelley's Frankenstein once Pedals and adjustment to his playing technique were added the results were formidable, They surprisingly found you could get a really full sound in the studio and at live showcases.
M
ark and Michael quickly discovered that the instrument gave
Kill For Company
massive freedom to experiment, the recordings could be done live in rehearsal rooms on Michael's mobile studio and production done back at home. Their first EP was lo-fi alt/rock while the second shows a more progressive feel.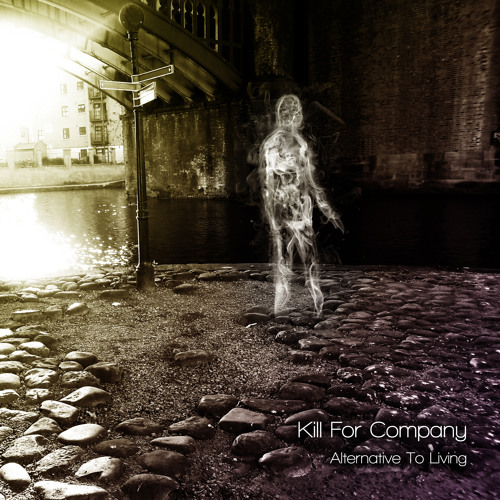 In-keeping with their low-fi (getting very popular in the US again) tag they're releasing a limited edition 7" vinyl of Alternative For Living' and even the video has a low-fi Joy Division feel to it a la 'Love Will Tear Us Apart'. I'm certain it'll feature on BBC Introducing's playlist as Michell Hussey was a fan of the last release and I'll certainly be giving it a spin on Radio KC.
It's the kind of track bands that have been around a lot longer would cut off their guitar straps to have in their repertoire. With that in mind here's a list of gigs upcoming and don't miss a chance to catch
Kill For Company
live at a venue near you.....
April 2013

SAT

13

APR

Kill for CompanyThe Beautiful Word, Salemakers, The Science of the Lamps
Lomax 1Liverpool, UK

Find tickets

FRI

26

APR

Kill for Company

The Deaf InstituteManchester, UK

Find tickets

May 2013

FRI

17

MAY

Kill for Company

Bakers VaultsStockport, UK

Find tickets

June 2013

FRI

07

JUN

Kill for CompanyClint Boon (Xfm Manchester DriveTime Show DJ)
Carson's BarManchester, UK

Find tickets

FRI

14

JUN

Kill for CompanyRawcuss
Cadence Festival 2013Wigan, UK

Find tickets

FRI

21

JUN

Kill for CompanyDakota, Joe Thomas, A Few Good Men
Headlander Festival 2013Stockport, UK

Find tickets

August 2013

FRI

09

AUG

Kill for CompanyOcean Colour Scene, Levellers, The Beat
Lakefest 2013Tewkesbury, UK
Find tickets