last year when Ralph joined
The Online Festival
one of the first tracks he came across was 'Pull Out The Lappy And Type It' by Chris Hallam AKA
To Have Is To Hold
and it's been a favourite tune ever since. It was just a simple lyrical flow accompanied by a ukuelele, but so striking in it's simplicity and humour it stuck like glue. At that time Chris was just starting out on his musical journey with a view to developing new material and producing an EP under the nom de plume
To Have Is To Hold
. Well he's done just that and Ralph had a word with him about his new EP '#Acoustic Flows'.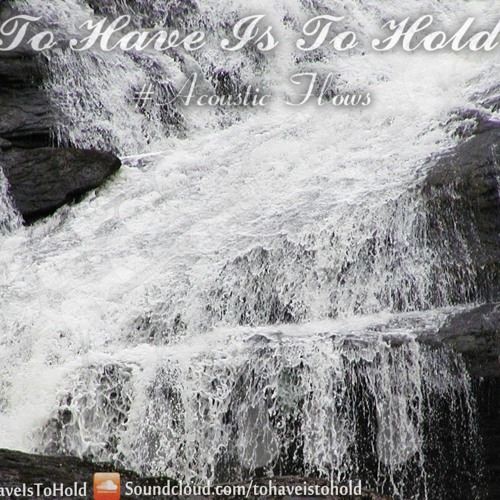 Ralph
:
You've done an EP that people can download free...any plans for a single or album?
Chris
:
J. Rizzo
and myself are working on a single at the moment, no release date yet though. I've
a singing single due out June/July that I've been structuring called 'Belong To One' and there's a demo of that on my
Soundcloud
. I'
m also two thirds through a singing album that will be recorded next year consisting of 10 tracks but no title yet.
Ralph
: You've done a few collaborations now...do you enjoy working with other musicians or do you find it difficult for them to get what you do?
Chris
: I love working with other artists/producers/musicians. I had the pleasure of meeting
Sco
,
J. Rizzo
and
Deeper Underground Visual
, they're cool guys. As some of it is done online its just a shame that I wont get to meet all the people I've worked with or collab with in the future.
Ralph
: Who have you worked with so far?
Ralph
: Who are you listening to just now?
Chris
: Just loads of different underground artists but you should definitely check out
Sam Wright
.
Ralph
: Who would you most like to work with?
Chris
: Im gonna flip that to who would like to work with me and they can contact me through twitter
@tohaveistohold
! I'
m working with
Smile Child
from Florida and
Clel
at the moment on some new projects. A
lso as #AcousticFlows2 will be finished soon I'll keep you posted about the the progress, stay tuned!
Ralph
: Important influences?
Chris
: My friend Gary Hicks, he was the one who showed me a few bits and bobs on the guitar and the rest is history.
Ralph
: What inspires your flows and their acoustic style...they don't always seem to be social commentary like hip hop/rap or aggressive in style?
Chris
: They're just daily happenings that are structured in a way that you can relate to. Some happenings of mine and situations of others that i have been told about that are all real life - with a few random lines in there!
Chris
: I was looking on YouTube one day and seen that there wasn't anyone flowing to the ukulele so I thought I'd be the first. I purchased a £20 Stagg uke from the local music shop, printed a chord chart from the library and off I went. I've got me a nice Brunswick uke now though with a tiny hard case.
Chris
: Mainly through the Internet as I'm on most of the sites - just type tohavistohold you'll find me! I've just recently burned a load of hard copies of the '#AcousticFlows' EP and been handing them out to people.
Chris
: I'd say to have an open mind, give it a listen and you may be surprised! You wont know until you've listened.
Chris
: I hope it takes us all on a journey because there are everyday happenings in it, something for for everyone to relate to. I'd love to play to an audience who appreciate my material though, who knows! I'll just keep creating as I really enjoy making music!
So there you have it, a young man with as honest a view on life and music as you'd like to meet. Check out his flows and hopefully, you'll get a chance to catch him at a venue near you sometime soon!