Following on from yesterday's blog on
Day 1 of The Killie Dirty Weekender
, here's Day 2 on Saturday the 1st June, which takes place over the same three venues (Bakers, Dirty Martini's and The Granary in Kilmarnock) but with a whole new bunch of acts!
Headlining Bakers Nite Club is
The OK Social Club
and gi
ven that
they've
only been together as a band since mid 2011 their achievements are becoming the stuff of legend. Their first two singles 'The Shape Of Things To Come' and 'The Late 90's' were released on Platform records in 2012 culminating in winning Best Live band in this years Scottish Alternative Music Award.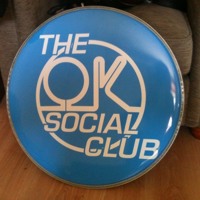 They've featured on a number of radio and TV shows including
MTV Rocks
, Channel 4's
Sunday Brunch
playlist with the legend that is Tim Lovejoy, Hollyoaks, (I know) E4 and Ralph's staple viewing Soccer AM as well as
Janice Forsyth
's record of the week on Auntie BEEB and they were
Steve Lamacq
's 'Rebel Playlist' winners on BBC Radio 6 (and breathe).
Dead Sea Souls
are next up and
they all hail from West Lothian in Central Scotland. Their songs and high energy gigs never fail to capture the imagination of each and every crowd they play to. Their working class roots and love of that end of week 'Friday feeling' exploding over each and every tune. They've built a huge following on all social media site's which has helped them play with an ever loyal following in all of the major venue's throughout central Scotland.
Support slots to the likes of The Sunshine Underground, The View, Ocean Colour Scene, Stornoway and many others shows that all of Scotland's music promoters (including DFC & Regular) know they can turn to the Dead Sea Souls to deliver an outstanding live show.
Scottish new music guru Jim Gellatly said "An amazing live act, they totally blew me away…" and Radio Forth DJ Daren Adam adds "melodic, literate and funky tunes - you'll have a smile on your face long before the chorus". One of their favourite acts is Sunshine Underground and their singer Craig Wellington watched off stage and commented "well-crafted tunes – Free Danny Bell is an anthem".
Third band at Bakers is
One Last Secret
from Kilmarnock. With their own blend of Rock Pop they have stormed the Scottish Music Scene the past year. Their debut EP "Hiding in Plain Sight" went straight to the top of the Ayrshire charts and they have gained national radio and press coverage along with sold out gigs at top Glasgow venues such as King Tuts and Classic Grand.
They've recently released a new single and video "Tonight" and are in the process of recording their second EP. Nominated Best New Band at the Scottish Variety Awards they hope to continue this success throughout 2013. They are,
Wesley Scott, Fraser McBride, Darran James, Liam McNamara and
influences come from groups such as The Beatles, Mcfly, Foo Fighters, Bowling for Soup and Eminem.
Headliners at Dirty Martini's is
Mechanical Smile
who have a genuine unique sound and image. Their music combines rock, pop and grunge to create a melodic and pulsating sound, giving them the reputation as one of Scotland's finest bands this year. Festival appearances at Download and Slam Dunk, features in Rock Sound, FRONT and Kerrang! magazine, as well as national press/airplay under their belt, Mechanical Smile are a band with amb
ition.
They are
Dawn Marshall - Guitar/Vocals,
Garry Irving - Guitar,
Nic Pilmer - Bass,
Murray Baxter - Drums and they've played with the likes of
Stiff Little Fingers, Kassidy, The Dykeenies, The Automatic, Young Legionnaire, Fearless Vampire Killers, Hopeless Heroic, Fatherson, Carnivores.
Next up and showing the quality of the line up over the weekend is
Bear Arms
an Alt/Rock band from Kinross who are based in Glasgow and who won the Best Metal category of The Scottish Alternative Music Award this year. That's hardly a surprise as their 'New Skin' EP is a tour de force and a must for anyones collection. They are
Richard Wardrop - Vocals/Guitar,
Keiran Hird -Vocals/Guitar,
Lewis Mcgourty - Bass and
Dean Louden - Drums.
Next up are
Altered Sky
who formed in early 2010, releasing their first single "Apple Tree" in November of that year.The 5-piece embarked on their debut UK tour in March 2012 and are looking to build on this experience to promote their début EP "In This World".
Released in 2011 the EP received critical acclaim from the likes of Jim Gellatly, who played tracks on his weekly show on Amazing Radio, and Tony McGuire of The Evening Times who said "Finally – the homegrown Scottish rock kick in the teeth we've been waiting for. Altered Sky could be huge off the back of this EP – so if you're not on board already, now would be a good time to start."
The band's latest video "I Know You Know" was released in June 2012.
Starsigns and Calendars
are a unique sounding band from ayrshire/glasgow. The band was started to create something positive in the world and so it continues to be. Starsigns and Calendars means be true to who you are all the time. S
tarsigns and Calendars have been an active band for 2 years and i hope it will be around for a few more. They're just getting started and with inspiration from bands like Death Cab for Cutie, Angels and Airwaves, Dashboard, Sigar Ros and Tom Petty you cant go wrong. They work very hard to keep music alive and appreciate their support - there's more to come! They are B
ryan Miller, Dave Drummond, John Taggart and Stuart Wright.
All But Gentlemen
is a small indie band from Kilmarnock formed in 2012. They're inspired by Scottish bands like Biffy Clyro, Little Eye and many more. They are
Vocals & Rhythm Guitar - Ryan Stee,l
Lead Guitar - John Livingston,
Bass - David McCabe and
Drums - Richard Ogle. let's hope they develop tracks like 'The Penny Drops' as they're heading in the right direction!
Final venue is The Granary and headlining is
Chris Helme
who first rose to prominence as the front man of John Squire's post-Stone Roses band 'The Seahorses' released his brand new solo album on the 27th of August 2012. Still rightfully remembered for the anthemic Britpop classics Love Is The Law and Blinded By The Sun - songs that evoked everything the 90's stood for, the excitement, the culture and the bands that provided a voice in a pe
riod of political and social imbalance. Present day societal context may well in fact mirror those times but the man himself, now, appears cut from an entirely different cloth.
Helme's is an enviable back catalogue, bolstered further by his acclaimed works with The Yards, but it's The Rookery's knack for melody and imaginative, intricate, three-way guitar interplay that brings each track to such lush, blossoming, climaxes. Add to this Helme's keen ear for arranging and those brooding string passages resonate even more deeply.
From the earliest days of his career, his voice always commanded attention, and The Rookery's variation is seemingly bound by this one continuous thread. File next to CSN&Y, Led Zeppelin 3, Buckley, The Coral, and enjoy.
Next on the agenda is the mighty
Culann
who have made no secret of the fact that they want to make 2013 their year and they made a great start by winning the 'Best Rock/Alternative' category of
The Scottish Alternative Music Award
earlier this month. Comprised of
PJ Kelly - Vocals/Guitar,
Sean Kelly - Drums/Vocals, Greg Irish- Guitar, Ross McCluskie- Keys and Calum Davis-Bass, Culann are making rousing folk/rock anthems.
They've brought together elements of some of the great 70's prog rock super-groups like
ELP
and
Yes
together with the modern folk stylings of
Frightened Rabbit
and
Admiral Fallow
. They're almost creating their own genre within the current Scottish music scene and you only have to look at their growing fan-base to know they've got the mixture just right. That's very evident in one of their more powerful and anthemic tracks, the masterful 'Salvation' which builds throughout to a vocal crescendo.
Johnny Barr
is a Paisley based singer/songwriter who is currently studying Popular Music at Leeds College of Music, specializing in songwriting. Frequently gigging with his own 6-piece band, Johnny's unique combination of percussive guitar technique and intricate finger picking makes him an exciting act to watch, especially when this is paired with his effortlessly exhilarating stage presence.
20
11 was a superb year for Johnny. He was featured on Radio 1's BBC Scotland Introducing with DJ Ally Mccrae, and supported a number of upcoming acts such as The Staves, Admiral Fallow, Sucioperro, Aerials up, Alan Mckim and Lynnie Carson. 2011 also saw Johnny headline Glasgow's King Tuts for the first time, where he also played last January as part of the venue's New Year's Revolution festival. Johnny aims to keep up momentum already generated this year through numerous well-received shows with the release of his debut album this summer. Watch this space!
Soldier On
are a 5-piece rock'n'roll band from Ayrshire, made up of Jordan Bastock, Liam Lambert, Stephen Hunter, Ben Prescott and Ross Butler.
To date, they've played a number of gigs in some of the best venues Scotland has to offer. Recently, they even played in Glasgow's iconic Barrowlands, where a number of high profile bands, such as Kasabian, The Rolling Stones, Paul Weller, and The Who have played.