Under A Banner
from Wolverhampton have been making powerful, passionate and poetic alternative rock for almost three years. The two musicians at the band's creative core have forged not just another band but something in which people are becoming emotionally invested in. They're riding high on the current wave of folk/rock currently becoming increasingly more popular with the likes of Manchester's
The Travelling Band
or Scotland's
The Holy Ghosts
spreading the word.
The last year has seen the band (who perform as a full electric/acoustic unit or as a trimmed-down acoustic 3 piece) support
New Model Army
, have their music used by the charity
Safe World for Women
, been played on dozens of online and FM radio stations, including
Stafford FM
and were featured in
Indie Shaman
magazine.
They've played many gigs and festivals and gathered the support of thousands of loyal fans in such diverse locations as South America, Poland and Indonesia.
The band has been given the official go-ahead to use the imminent release of their song 'Some Stories' supporting
Help for Heroes
.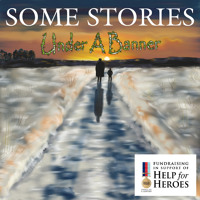 'Some Stories' highlights their strong lyrical ability which is matched by their musicality. In 'Some Stories' they enhance their story telling with music that brings poignancy and meaning to the words of the song as it builds throughout the track -mirrored in the well crafted video that accompanies the track.
It's one you should have on your i-pod and in doing so you also contribute to
Help for Heroes
.
Upcoming gigs are.....
Sunday May 26th live acoustic session @ The Stile's Festival of music, Wolverhampton. May 26, 2013
Under A Banner live in London – Friday May 31st @ The Islington, Islington May 30, 2013 8:00 pm
Saturday June 15th FREE full band acoustic set @ Cafe Blend, Birmingham June 15, 2013 7:00 pm
Saturday July 27th live @ The Combermere Arms, Chapel Ash, Wolverhampton. 9 till late July 27, 2013 9:00 pm