So last year as I was checking out the twittering and doing my usual link clicking when tweeps recommend stuff, I heard 'Traffic Lights' from the debut EP 'Step Off The Ledge' by
The King and Queen of Sorry
. Jack Rusell by name inquisitive by nature I went sniffing for more info and the very lovely
Kathryn Marsh
filled me in on some details of what's behind and in front for the duo, completed by guitarist
Rhod Williams
.
The band name came about when they both realised they spent far too much apologising to each other about delays in the recording process, with Kathryn remarking that they were the
King & Queen Of Sorry
and the name stuck. Their sound can best be described as acoustic pop with influences from the burgeoning UK/US scene & folk tinged balladry (like
The Fallows
or the more upbeat and funkier
Merrylees
).
Production on the EP is handled by
Jan Buchholz
(Hamburg) and guest piano/strings are courtesy of Giz Davies (Sound Boutique, London) and all songs are written by the accomplished Mr Rhod William
s.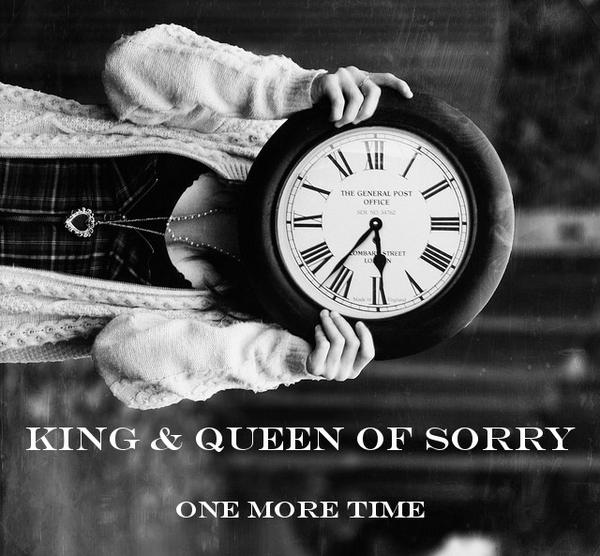 Rhod and Kathryn hail from the small welsh town of Abergavenny, and along with Giz, attended the same secondary school, played at similar venues and hung about on the same local music scene, before all moving to different parts of the UK. In November 2009, Rhod's 40th birthday gift from his wife, was a day in a recording studio. The invite was extended to all of his old school friend musicians, including Kathryn and Giz. Rhod and Kathryn rehearsed their track quietly in one of the studio corridors and realised they had something complimentary going on and so the idea of an acoustic duo was born.
Kathryn said: "the reasoning for this stripped back sound is simple: rather than rely upon a myriad of effects which are so easy to rely upon in this digital age, the songs are recorded pretty much as live."
The duo always attempt to wring every ounce of emotion from their instruments and let the listener focus on Kathryn's soaring alto vocal style.
Well this works for me as Kathryn's crystal clear vocals are an absolute delight, augmented by the assured but relaxed strumming of Rhod. On 33 to 45 there's a very retro feel, back to the days when Joni Mitchell was queen and Kathryn gives her more than a run for her money.
The vocals on Open Door have a
Sharleen Spiteri
feel (no bad thing from where I'm listening) and one you shut your eyes, and let Kathryn's silky vocals sooth you.
As a band they are well experienced as artists in their own right although public performances at the moment are still rare. They have however garnered airplay on
Krystal Radio
, playing 'Traffic Lights' with favourable comment. More radio companies have expressed an interest in giving the tracks the airplay they deserve and I've featured some of Kathryn's solo work as well as 'Traffic Lights' on Ralph's own show on
RadioKC
.
They have received acclaim in the
Six String Bliss Podcast & on the Six String Bliss forum
, where they received favourable comparison to indie folk/pop duo She and Him (they're the band
Zoey Deschanel
wishes she was in). Their 'Step Off The Ledge' E.P. received a 4 out of 5 star review in
Music Review Unsigned
.
Future plans are to increase profile of the band by way of more radio airplay & reviews of the E.P.
They hope to tour the music extensively once more people are aware of the great music they make. Their recent inclusion in an Indie Compilation album 'Indievidual' by
Hourglass Music
(the recording arm of
The Online Festival
) is proof positive that their music definitely is getting noticed!
email:
kathryn.marsh@orange.net
or
rhodwilliams@hotmail.co.uk
All 4 tracks from their first E.P. 'Step Off The Ledge' can be downloaded for free from
http://kingandqueenofsorry.bandcamp.com/
.
They're friendly Tweeps too so have a listen and give 'em a tweet on
@KingAndQueenOfS
they'd love to hear from you.