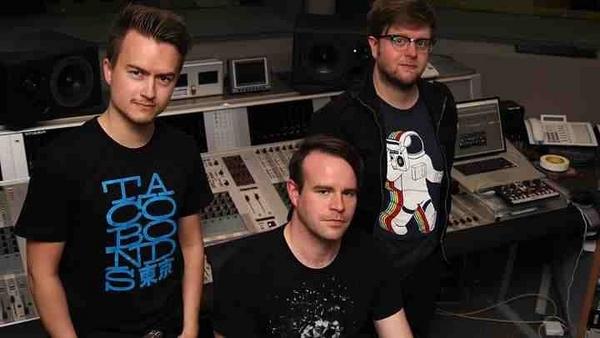 Fat Goth at the Beeb for a Vic Galloway Live Session
Following
The Wickerman Festival
they played
Bar Bloc
in Glasgow and a gig at
The Electric Circus
in Edinburgh for Born To Be Wide. I hope you took the chance to catch their distinctive sound, darkly clever lyrics and vocal thrashings so loved by
BBC Radio Scotland's Vic Galloway
and
BBC Radio 1's Ally McCrae
and their tracks can be downloaded at .....
fatgoth.bandcamp.com
.
Here's a snipette from their second album 'Stud' which was released in January to great acclaim.....
first up is the crazy and loveable 'Pinball Moron' with it's shades of early Lou Reed vocalising and if it wasn't for the humour you might never realise it's
Fat Goth
that's serenading you.....
This track's called 'Debbie's Dirty Harry' and it's as loud, dirty and sleazy as you've come to expect from the guys.....as for the rest...go and buy the album.
Following the release of the album is the news that they've been nominated for the Scottish Alternative Music Awards's Rock/Alternative section. Now this is the third time I've had to come back and rework the blog as they keep going from strength to strength and reach new heights, so I've no doubt in a few months time I'll be back here typing away again as they release another album or get nominated for another award.
Check out their phat sounds and once your head stops bangin' get youself tickets for one of the guys gigs.....tell 'em Ralph sent you.....and here's a video of 'Surf's Down' at Wickerman!
"You'll be none the wiser by the end of it all, but much richer for stumbling into Fat Goth's odd little universe" (KKKK - Kerrang, January 2013)



"STUD is profoundly uneasy listening at its best, and weirdo freaks everywhere should love it." (8/10 - Rocksound, January 2013)



"With this as their latest calling card, Fat Goth should have no problem becoming an in-demand ticket." (4/5 - The Skinny, January 2013)



"it's heartening to unearth some true underdog oddballs from a dark corner of Britain. Fat Goth, we salute you." (BBC Album Reviews, January 2013)



"...the most exciting thing to come out of Dundee in many a year" (Terrorizer, January 2013)



"Excellent album of thunderstruck-hardcore, hollering-pop and countrified-rock'n'roll" (4/5 - The List, January 2013)



"This is visceral, intelligent, misanthropic, no-holds-barred rock music" (Vic Galloway, BBC Radio Scotland Album Of The Week)