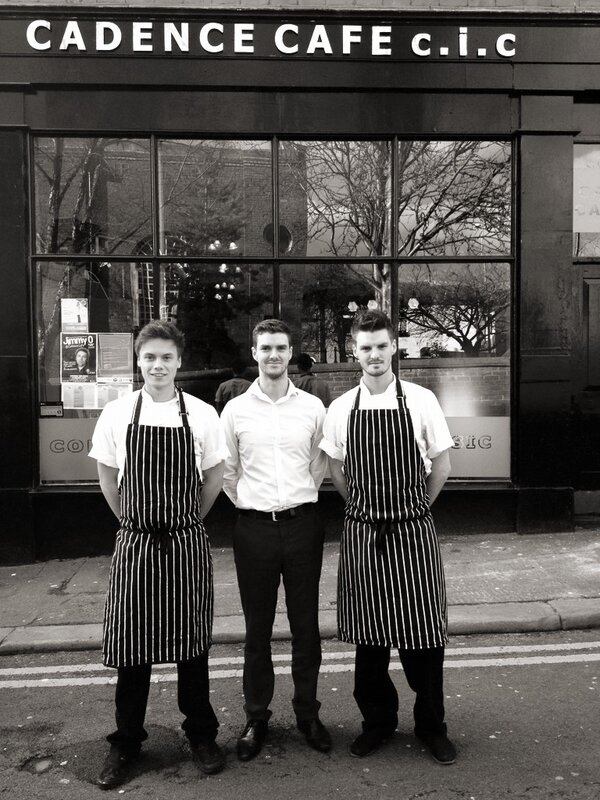 Jonny Marsh (left) with brothers Aron (middle)
and Tyron Price
The latest sensation to hit the community driven
Cadence Cafe
in Tyldesley near Manchester is a pop-up restaurant organised by local chef
Johnathon Marsh
alongside brothers Aron and Ty Price.
As a schoolboy Jonny spent every Saturday working in the kitchens of the sadly now defunct Manchester restaurant, Brasserie Blanc, despite being too young to be paid. But his talent and determination paid off when world-renowned chef
Raymond Blanc
met Jonny at the eaterie back in 2008. Jonny was invited to Blanc's Michelin-starred
Le Manoir aux Quat'Saisons
and was offered an apprenticeship. He gained experience and knowledge from the experts.
Jonny, from Tyldesley, said... "When I was 16, Raymond Blanc came up for a visit to the restaurant. I was so star-struck and nervous it was difficult to speak. He saw me in the kitchen and invited me down to Le Manoir for a couple of days, which turned out to be a trial. At the end of two days I was offered an apprenticeship." Le Manoir is one of the best restaurants in the world and it's known for producing young chefs. Jonathan said he was inspired to become a chef after watching Blanc,
Jamie Oliver
and
Gordon Ramsay
on television.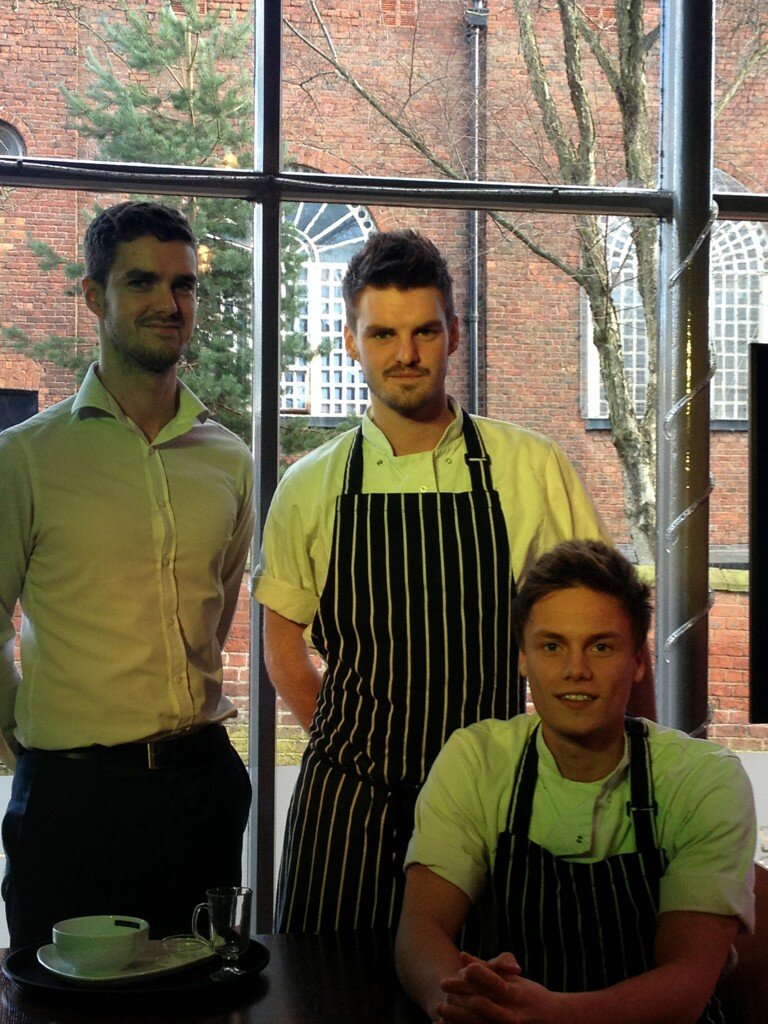 He said: "I decided I wanted to be a chef when I was about 13. I think it was because I liked artwork and drawing and had been in the kitchen baking cakes and I liked it."When we went to Brasserie Blanc in Manchester for a meal we asked how I would get a job in a restaurant and the general manager said I could have a job."I worked for free at first because I just wanted to see if I would like it and if it was for me. I really enjoyed it. I loved the environment and the adrenalin rush a" the feeling that people were eating my food."After leaving Fred Longworth High School, Jonathan studied for an NVQ in food and drink at South Trafford College. That was followed by a further course in professional cookery and working part-time at
Michael Caines @Abode
.
He's followed that up by working as a barristers clerk interspersed with working alongside
Sunday Brunch
celebrity chef
Simon Rimmer
who along with his other culinary heroes, has been the inspiration for his current venture at the
Cadence Cafe
.
On asking Jonny as to future goals he's nothing if not ambitious when he said -
"
Well, I'd like awards for the food, I'd love rosettes as there isn't anything against pop up restaurant being awarded like that! I would have a two year goal of gaining 3 rosettes."
I also asked Jonny what he likes to cook and he said -
"I enjoy cooking very classical French dishes, but when working at Le Manoir I did A LOT of risottos and I would say that's my strongest dish!"

Exciting times for Johnny too as he has his own online cookery show...and here's the first episode, with a modern take on Prawn Cocktail...
On the first night he's going for a very modern British feel although don't be surprised if there's a few changes as Jonny strives for gastronomic excellence! Just to get in some practice for the night here's Jonny chopping a whole cucumber in under six seconds...don't try this at home!
The set menu on the first night will be.....
Starter - Steamed Beetroot pickled in red wine vinegar, Butternut Squash purée, red wine jus, Sage Crisps, Prosciutto Ham and fried Girolle Mushrooms and Micro Herbs.
Main - Braised Lamb Shank, red wine jus, Sage Mash, Parsnip Crisps selection of Seasonal Vegetables and Micro Herbs.
Dessert - Lemon Posset with Sweet Vanilla Cream and Shortbread.
I'd recommend you phone rather quickly as I'm certain tables will be going fast...however let's hope more nights will become available. How often do you get the chance to sample fine dining at a reasonable price (and served by a Price).
Latest dates now available are 6th and 20th April...and new dates have now been added for May but there's limited availability so book quickly!
Bookings by email: foodbyjmarsh@hotmail.co.uk
Bookings by phone: 07542 196260
If you need any further reason to make a booking here's a review of the opening night by Linzi Whittingham.....
Food By Jonny Marsh at Cadence, Tyldesley Saturday 16
th
March 2013
Starter – Steamed Beetroot pickled in red wine vinegar, butternut squash puree, red wine jus, sage crisps, proscuitto ham and fried girolle mushroom and micro herbs.
Main – Braised lamb shank, red wine jus, sage mash, parsnip crisps, selection of season vegetables and micro herbs.
Dessert – Lemon Posset with strawberries
Well the night finally arrived. I was, at last, able to sample some of Jonny Marsh's cooking which I have heard about for so long and let me tell you, it did not disappoint.
I had, by various means of stealth and cunning, avoided finding out what the set menu was for last night's dining experience, a small miracle considering the many tempters over the last few weeks who have tried scupper my plans of remaining unaware, Ralph included!!
So when I arrived last night I had no preconceived ideas of what to expect and I did not care what Jonny laid before us because I knew, without doubt, that whatever this fine young chef produced would be fantastic and way beyond anything I could conjure myself.
We were greeted by the ever dapper Aron Price, who was in charge of front of house, ably assisted by the equally dapper Laiton Price (who ensured my glass was filled with Rose in record time, very impressed by that).
Then came the starter, as soon as it arrived I knew then that this dining experience was going to be worth the wait, an exquisitely presented dish worthy of one of Manchester finest restaurants, here in my little home town of Tyldesley.
Whilst waiting for the main course I had the pleasure of watching Jonny, Head Chef and his Sous Chef Ty Price work their magic in the open kitchen area at the Cadence, assisted this time by Alex Brown and boy did they work hard, this was a serious kitchen environment, there may not have been the Ramsay profanities, but Jonny had on his game face and you knew he meant business.
Aron and Laiton brought out our main dishes and what can I say, have you ever had a lamb shank cooked so much to perfection that you only had to look at it and it fell off the bone, well I have now. It was absolutely delicious, soft, moist and so tasty and the accompaniment of the sage mash was perfect. The vegetables, presented in funky glass jars were also, as I think I would only now expect from these guys, cooked to perfection.
This only now leaves the dessert, lemon posset with a side of fresh juicy strawberries, what a lovely treat, simple and sensational. The zest of the lemon burst onto your taste buds, zapped through the lamb flavours and did that foody thing that you read about when anybody writes about such things, it cleansed your palate.
In summary, we had a great night; with great food provided by some great local young talent, what more could you ask for on a Saturday night.
Linzi Whittingham
Here's a link to a blog by
Creely Photography
with another review and some more stunning pictures of the opening night.