Looking for a venue in or around Bradford that offers a mix of music, top artists from around the world in a friendly, intimate atmosphere?
Look no further than
The Live Room
at
The Caroline Social Club
in
Saltaire
.
The Live Room
is the brainchild of Ron Dukelow and Hilary Booth, both experienced music promoters, who, for ten years were the driving force behind the highly successful Live at the Talbot series at the Talbot Hotel in West Wales.
It's their intention to bring the same ethos to their new venue at the
Caroline Social Club
to make it the best folk and roots music venue in the Bradford area.
If you have a suggestion for an artist to play there get in touch. They can't promise that they'll be able to present them, but they'll consider all ideas.
After a previous gig featuring
My Darling Clementine
this comment appeared on Twitter.....
'The Live Room is the best thing that has happened music wise in this area in the 15 year I've lived here' (Adrian Gallagher).
Next gig on the agenda is an absolute cracker as
Southern Tenant Folk Union
hold their album launch at the venue.....Sunday 13th January 8pm.
One of the most highly acclaimed folk/bluegrass bands in the UK today,
Southern Tenant Folk Union
are coming to the Live Room for the Yorkshire launch of their fifth album 'Hello Cold Goodbye Sun'.
Pat McGarvey, who formed the band in 2006, served his musical apprenticeship touring the world and recording a number of albums with bands like
The Arlenes
&
The Coal Porters
in London. That grounding plus countless other collaborations with key independent Americana acts including Peter Case, Tandy, Amy Rigby, Rosie Flores, Jason McNiff & Bob Neuwirth (Dylan's road manager in the 60's) gave him the real experience needed to fuse together the band's American folk and British roots sound with his own Celtic heritage.
'Chest Freezer' is a stormer of a track from an album that is as intriguing and haunting as it is foot tapping and addictive. They're more and more bridging the gap between the best of Scottish Indie Folk bands and the wave of outstanding Scottish Indie Alt Rock/Folk bands like
Fatherson
,
Olympic Swimmers
and
Admiral Fallow
that are coming to the fore at the moment. Some say they're like Mumford & Sons, I say they're better.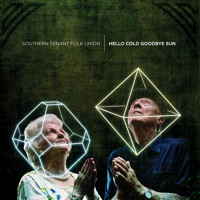 A seven piece all acoustic band with banjo, mandolin, fiddle & harmony vocals they perform an eclectic mix of high energy atmospheric folk. STFU have so far released four highly acclaimed albums and received national airplay including BBC Radio 2's Mark Lamarr and Steve Lamacq, Radio 4's Loose Ends and a national RTE TV show (The View) in Ireland. In October 2010 they were awarded 'Americana Artist of the Year' at the British Country Music Awards. Artistically successful, award-winning as well as being a captivating live act they now sell out arts centres across Europe
'The band knock up a fierce, raw and earthy music that is the stuff of Mumford & Sons' dreams…the results are as compelling as they are oppressively bleak' - Maddy Costa, The Guardian
'More than simple roots-music revivalism' - Stewart Lee, The Sunday Times
'They know how to write a song that band' - Mark Lamarr, BBC Radio 2